Google Chairman to Deliver Commencement Address
Schmidt took company from start-up to the stars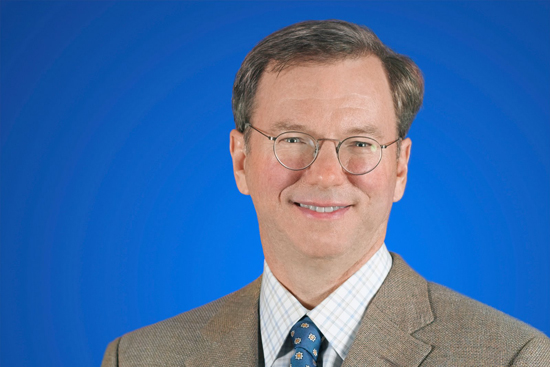 It must have been surprising to University of Pennsylvania students listening to Eric E. Schmidt's commencement address three years ago. They sat attentively as the CEO of Google, the world's largest search engine and a symbol of innovation and technology, told them that to discover the meaning of life they would have to turn off their computers and cell phones.
"Discover all that is human around us," Schmidt told the crowd. "You'll find that people really are the same all around the world. They really do care about the same things.
"You'll find that nothing beats holding the hand of your grandchild as he walks his first steps," he said. "You'll find that a mind set in its ways is a life wasted. Don't do it. You'll find that the resilience of the human being and the human spirit is amazing."
That perception is one part of what carried the 57-year-old to the top of the business and technology world. Now Google's executive chairman, he has helped usher the company from a Silicon Valley start-up to a global household name (and verb) with nearly 30,000 employees. Forbes this year placed Schmidt number 138 among the world's billionaires, with a net worth of $6.9 billion.
On Sunday, May 20, Schmidt will share his thoughts with Boston University's Class of 2012, when he steps up to the microphone at the University's 139th Commencement ceremony. President Robert A. Brown announced at the May 3 Senior Breakfast that Schmidt will receive an honorary Doctor of Science degree and be the Commencement speaker.
"Eric Schmidt is a transformative leader in both business and technology," Brown says. "He oversaw the growth of Google from a start-up to a leading international organization that is touching almost all people and providing a democratic avenue for finding and sharing information. Through his leadership role, innovations, value creation, and giving back to society, he is a worthy exemplar for our graduates."
Schmidt's path to success started at Princeton University, where he earned a bachelor's degree in electrical engineering. The Virginia native later took a master's degree and a doctorate in computer science from the University of California, Berkeley.
He worked at Bell Laboratories, the Xerox Palo Alto Research Center (PARC), and Sun Microsystems (now part of Oracle), where he rose to chief technology officer and led the development of Java technology. He then became the chief executive officer of software provider Novell.
In 2001, Schmidt's leadership talent caught the attention of Larry Page and Sergey Brin, who had founded Google three years earlier. Brin and Page had been running the fast-growing company and knew that it was time to bring in a seasoned executive.
For the next decade, Schmidt was Google's CEO, sharing day-to-day operations with Page and Brin. The night before the company went public in 2004, the three made a pact to stay together for 20 years. So far that decision has served them well; the company's market value exceeds $157 billion.
In January 2011, Schmidt stepped down as CEO, handing the reins back to Page. He announced the move on Google's Official Blog and via Twitter: "Day-to-day adult supervision no longer needed!"
These days, as executive chairman, Schmidt continues advising Google's senior management and is responsible for government outreach and building the company's partnerships and broader business relationships.
Schmidt is a member of the President's Council of Advisors on Science and Technology and the United Kingdom's Prime Minister's Advisory Council. He was elected to the National Academy of Engineering in 2006 and inducted into the American Academy of Arts and Sciences as a fellow in 2007. He chairs the board of the nonprofit, nonpartisan public policy institute New America Foundation and has been a trustee of the Institute for Advanced Study in Princeton, N.J., since 2008.
His philanthropic work includes cofounding the Schmidt Family Foundation, which funds efforts to transform the world's environmental and energy practices in the 21st century.
Schmidt is one of five honorary degree recipients being honored at the University's 139th Commencement. U.S. Navy Captain Thomas Kelley will be presented with a Doctor of Laws. Actor and photographer Leonard Nimoy will receive a Doctor of Humane Letters. Norman Augustine, an aeronautical engineer and public servant, will be presented with a Doctor of Science. And Sandra Lynch (LAW'71), chief judge of the U.S. Court of Appeals for the First Circuit, will receive a Doctor of Laws and will give the Baccalaureate address.