From Fantasy Football to Real Estate Mogul
Alex Hodara (SMG'10) is building an empire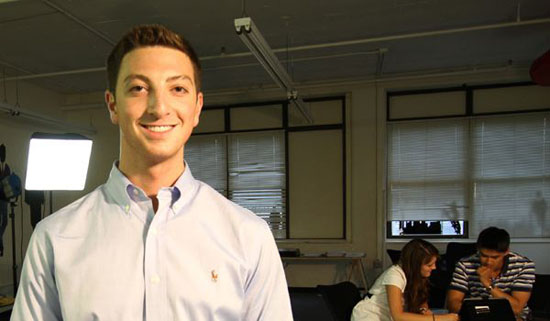 Alex Hodara isn't just lucky—he's also shrewd. When he was 15, he won $2,000 in a Fantasy Football league. While most teenagers would have taken the money and bought a car, Hodara used it to start an online business, PokerChipKing.com, importing poker chips from China and selling them for a profit.
Now 23, Hodara helms a $17 million, student-run real estate agency, Hodara Real Estate Group. "I really like going into things where there is a lot of room for improvement," says Hodara (SMG'10). "Most people have a negative image of a real estate agent and I want to change that."
His interest in the Boston real estate market began during freshman year. Always interested in real estate, he decided to use money saved from his poker chip business and other part-time jobs to take a real estate license class. He admits it wasn't just an interest in the business that motivated him.
"I was trying to impress a girl on my floor in Warren Towers," he says.
At the time, he knew almost nothing about the local housing market, having grown up in Westfield, N.J. In fact, he didn't even own a car so he could wander around finding out about the different areas after he earned his license.
"I took cabs around Boston exploring the neighborhoods, finding places where students would want to live and where they wouldn't want to live," he says. "I spent $2,500 on cabs that first year, but I still made a good amount of money. I learned all of Boston in a year."
While going to school full-time, Hodara worked as a broker for other agencies until junior year, when he decided to start his own agency with $11,000 he'd saved. Opening in Allston in January 2009, Hodara Real Estate Group became the first student-run real estate agency in the country. Hodara paid for four of his student friends to earn their real estate licenses and then hired them to work part-time.
In its infancy, the firm rented exclusively to other students. Hodara says he was able to offer students what other firms couldn't: brokers who as students themselves had an intimate knowledge of the neighborhoods they were showing.
Today, Hodara Real Estate Group has nine agents and has moved to a larger office on Commonwealth Avenue in Boston. And while remaining largely student-run, he says, the firm has expanded from rentals to focus today on selling and managing properties. He refuses to reveal his profit margin, saying only that it is in the six-figure range.
Hodara's business savvy has caught the media's notice. He made Businessweek's Top 25 Entrepreneurs Under 25 list in 2010 and has appeared on CNBC and been featured in the Boston Globe and the Boston Herald.
And recently Hodara embarked on a new endeavor. With Hodara Real Estate co-owner Vincent Vomero (SMG'10) and leasing manager Julian Jung, currently a Northeastern University student, he recently started the online reality show Making Moves, which features the trio traveling around the country helping young people achieve their goals.
In one episode, they helped a student start his own clothing company in Los Angeles; in another they paired an aspiring hockey player with a minor league team. The series is shown on college TV stations around Boston and online.
Hodara pays to produce Making Moves, saying the show has been a great marketing tool for his real estate business. "We have gotten really good traction from the show because I think people feel like they can associate with us when they watch," he says. "I think it helps them get to know us before they come in."
Now Hodara has set his sights on Manhattan. He plans to earn a real estate license there so he can expand his real estate business.
Meanwhile, the real estate veteran has some advice for BU students as they think about housing for next year. "You have to weigh all of the options to understand what you get with on-campus housing versus off-campus housing," he says. Students need to consider whether utilities are included in the rent and the cost of buying groceries versus purchasing a meal plan when making the decision.
"If you and your parents decide you can live off campus," he says, "you have to choose the area—South Campus, West Campus. The best way to really do this is to use a real estate agent you trust, because they can help pick the best area for you and then help you find a place. The more you know, the better."
Amy Laskowski can be reached at amlaskow@bu.edu.