David Ferry Wins One of Poetry's Top Prizes
Work of CAS poet and translator cited as seismic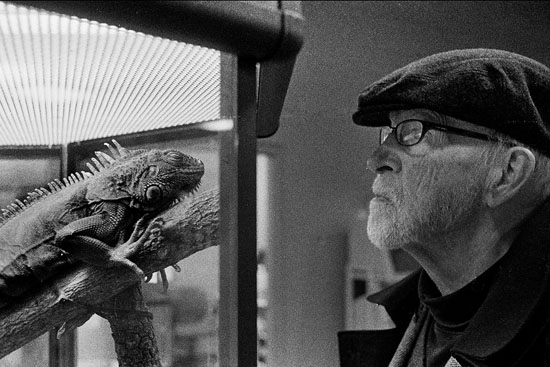 David Ferry has been honored with the 2011 Ruth Lilly Prize for lifetime achievement, one of the top awards given to American poets. Ferry, the Sophie Chantal Hart Professor Emeritus at Wellesley College and a College of Arts & Sciences lecturer in creative writing, has taught at BU for more than a decade.
The $100,000 prize is awarded each year to a living U.S. poet "whose lifetime accomplishments warrant extraordinary recognition." It is sponsored by the Poetry Foundation, publisher of Poetry magazine.
Ferry says his initial reaction to winning the lifetime achievement award was shock.
Now 87, Ferry began writing poetry as a graduate student at Harvard. His first collection, On the Way to the Island, was published in 1960. He has written or edited more than a dozen books and is as noted for his work as a translator (he is currently translating Virgil's Aeneid) as he is for his poetry.
But it is his poems that the Poetry Foundation recognized last week. Poetry magazine editor Christian Wiman says that despite Ferry's achievements as a translator, "in the end, it will be his poems that last. In a time when most poetry relies on intense surface energy, Ferry's effects are muted and subterranean—but then, in their cumulative effect, seismic."
Robert Pinsky, a CAS professor of English and three-time U.S. poet laureate, describes Ferry's poems as "essential parts of an evolving, lifelong work of imagination, at the highest level." Pinsky goes on to say that "it's a great thing when prizes go to the right places—David Ferry is a marvel and a treasure who…keeps getting better and better."
Ferry is currently at work on a new book, Bewilderment: New Poems and Translations. Asked about the book's title, he concedes that the poems all share an underlying sense of bewilderment, but that "it's not entirely personal. I think everybody's slightly off the rails. Me too, but I don't mean it's my exclusive territory. Yours and mine."
Many of Ferry's poems are by his own description about "people who don't know exactly who or where they are." Reviewing his 1999 collection Of No Country I Know for the New York Times, Carmeal Ciruaru noted that Ferry's "speakers are not at home in life; they are always on the outside looking in—to their own minds, their bodies, the places they call home."
The Ruth Lilly Poetry Prize will be presented to Ferry at a ceremony in Chicago on May 11. Previous recipients have included poets Adrienne Rich, John Ashbery, W. S. Merwin, and Richard Wilbur.
In announcing the award, Wiman noted that "for 50 years, Ferry has practiced poetry as if it truly matters to our lives and to our souls—and now his poems have that rare power to wake us up to both."
In the video above, David Ferry reads from his poem "The Birds."
John O'Rourke can be reached at orourkej@bu.edu.