2011 Pulitzer Winner for Poetry Reads Tonight
Lowell Lecture: Kay Ryan, cited for "iconoclastic and joyful mind"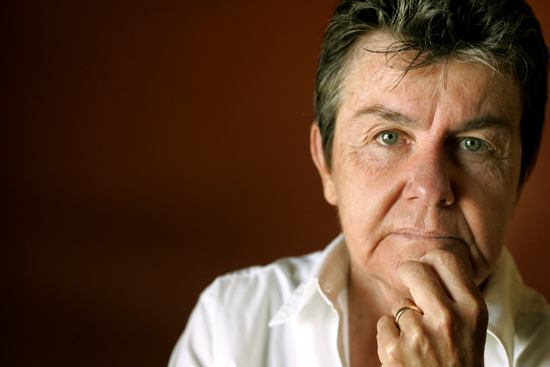 It is hard to imagine another living American poet with as unconventional a career as Kay Ryan's. The daughter of an oil driller, she was raised in the Mojave Desert, attended community college, and later began writing poems using a deck of tarot cards to jump-start them. Anxious to master her craft, Ryan designed an exercise consisting of shuffling the deck each day, turning one card over, and then writing a poem about it. Looking back, she says the experience "gave me range and gave me habit. I had to write about love, death, force, whatever was on that particular card."
Ryan says she also found inspiration in the popular Ripley's Believe It or Not! books. And unlike many of her contemporary colleagues, her poems freely employ rhyme. Add to that a lifetime of teaching remedial English at a community college in Marin County, Calif., and a stint tutoring convicted murderers at San Quentin, and you begin to understand why her poetry is singular.
Now 65, Ryan struggled for decades to be noticed (she self-published her first collection of verse). All that has changed in recent years. Her work has appeared regularly in The New Yorker, The Atlantic, and Poetry. A two-term U.S. poet laureate, she has amassed numerous honors, among them the Ruth Lilly Poetry Prize for lifetime achievement. Last week, her latest collection, The Best of It: New and Selected Poems, earned Ryan a Pulitzer Prize.
In announcing the award, the Pulitzer committee praised her "body of work spanning 45 years, witty, rebellious, and yet tender, a treasure trove of an iconoclastic and joyful mind."
Ryan is "utterly thrilled," by the award, she says. "I guess it means that in terms of anything that I've ever hoped for from the outside world…I've been given. So it's relaxing. It's very relaxing."
At tonight's Robert Lowell Memorial Lecture, at the Photonics Center at 7:30 p.m., Ryan will read from The Best of It, followed by a question-and-answer session and book-signing.
The semiannual lecture honors American poet Robert Lowell, who famously taught Anne Sexton, Sylvia Plath, George Starbuck, and many other poets at BU in the 1950s. Also reading tonight will be Katherine Hollander (GRS'06,'14), whose poems frequently draw on historical subjects, German and Yiddish fairy tales, and Greek and Inuit myths for inspiration. Hollander describes herself as Ryan's "opening act."
Robert Pinsky, a College of Arts & Sciences professor of English and a three-time U.S. poet laureate, says Ryan's poetry reflects "her own unique combination of wit and soul, clarity and depth." Speaking of Hollander, Pinsky says her "imagination and ear mark her as a natural poet; she epitomizes the brilliant, superb young writers who come to BU's MFA program."
Reviewing The Best of It in the New York Times last year, Dwight Garner says Ryan's work has a "darting mischievousness," and describes her poems as "slim as runway models, so tiny you could almost tweet them."
Ryan concedes that she favors brevity in her poems and often chooses little things as subjects. "It is much more gratifying for me to feel the immensity in something small. I feel much more strongly about a rock than I feel about the Grand Canyon," she says. "It's much more evocative for me. I'm overwhelmed by the Grand Canyon. The rock invites me. It doesn't swallow me."
Unlike most writers, Ryan takes delight in clichés, and her poems often display a kind of mordant wit. "I don't think there's any division between the ridiculous and the sublime. I don't make a distinction between the two," she says. "I just think, what a pity that we just don't have more fun with language."
The poet admits that she loves to make an audience laugh at readings. "It's fun to be in real time, where you can either blow it or you can think of something really good right then," she says. "It kind of excites the mind to be in mildly frightening circumstances, like in front of an audience of a couple of hundred strangers."
The Robert Lowell Memorial Lecture is tonight, Monday, April 25, at 7:30 p.m., at the Photonics Center, 8 St. Mary's St., Room 206. The event is free and open to the public. A question-and-answer session, book-signing, and reception immediately follow.
The Robert Lowell Memorial Lectures are funded by Nancy Livingston (COM'69) and her husband, Fred M. Levin, through the Shenson Foundation, in memory of Ben and A. Jess Shenson.
Kay Ryan reads from her poem "Coming and Going" above.
John O'Rourke can be reached at orourkej@bu.edu.