It's Now Easier to Go to E-church
Marsh Chapel Sunday service reaches wider audience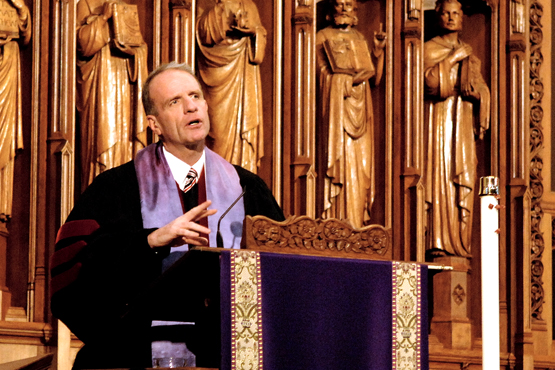 Marsh Chapel's Sunday interdenominational Protestant service is getting an e-billboard of sorts, to accommodate those who listen to morning worship online. The link will be put up every Sunday morning and removed after the service.
The 11 a.m. service is broadcast live on WBUR, BU's National Public Radio station, and on the chapel's Web site, with archived audio of the entire service or just the sermon available afterward. Beginning last Sunday, a more prominent link to the live service was featured on BU's home page, says the Rev. Robert Hill, dean of Marsh Chapel.
About 30,000 listeners tune in to WBUR's broadcast. Hill isn't sure how many listen online, but he knows they're out there. Last month, a visiting couple attending the service told him that they always catch the audio back home. They live in Sao Paulo, Brazil.
Now, that couple and other Internet listeners have an up-front entry point to Marsh's 50-year-old worship service. "You get all except the video," says Hill, "and we're working on that. I expect we'll be able to do it this calendar year." That's not a certainty, he adds, but a hope. Which is, after all, Marsh Chapel's business.
Rich Barlow can be reached at barlowr@bu.edu.