Women's B-ball Terriers Fall in America East Heartbreaker
BU plays Central Connecticut in WNIT Thursday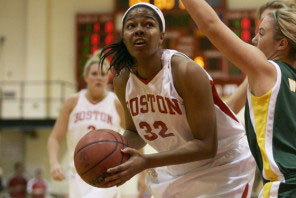 Led by a game-high 26 points and 11 rebounds from Jesyka Burks-Wiley (CAS'09), the Boston University women's basketball team cut a six-point deficit to one with 12:42 remaining in regulation, but was unable to grab the lead in the second half, as Vermont held on to capture the America East championship, 74-66, on March 15 at the University of Hartford's Chase Arena. With their 19-game winning streak snapped, the regular season champion Terriers drop to 24-7. They have received a bid to the Women's National Invitation Tournament.
Along with Burks-Wiley's double-double, Amarachi Umez-Eronini (CAS'09) posted 18 points and 7 rebounds for BU. Christine Kinneary (CAS'09) was the other Terrier in double figures, with 12 points. For the Catamounts, Courtnay Pilypaitis had a double-double, with 22 points and 11 boards, while May Kotsopoulos had 21 points and Sy Janousek 12 points.
The difference in the game proved to be at the line. Trailing 66-60 with 1:35 left, the Terriers' strategy of sending Vermont to the free throw line resulted in the Catamounts' hitting all eight of their attempts at the charity stripe to pull out the victory.
Burks-Wiley had the hot hand in the early going for the Terriers, scoring all six of their points to begin the game and build a 6-2 lead. Kinneary put in a layup at 16:52, forcing Vermont into an early timeout. Umez-Eronini and Kristi Dini (SAR'09) hit back-to-back shots, including a long-range triple that upped the squad's lead to 9 points, 13-4, at 15:19. During that stretch, Vermont was held scoreless for over three minutes.
A 15-2 run by the Catamounts gave them a one-point lead, 21-20, at 7:59, and they prevented the Terriers from scoring for over four minutes; however, a three by Aly Hinton (CAS'10) at 6:31 broke the stretch. UVM then took a four-point advantage, but Burks-Wiley converted on a traditional three-point play to make it a one-point game, 27-26, with just over four minutes remaining in the first stanza.
The Catamounts went into the locker rooms at halftime with a five-point lead after Janousek's layup went in at the buzzer to push the score to 33-28. Burks-Wiley, with 12 points, led all scorers at the half.
The second half started with back-and-forth action as Vermont maintained a slight one-point edge through the first four minutes, until Kotsopoulos went in for a layup to make the score 40-37 at 16:05.
A 6-0 spurt put UVM again up by six, 49-43, with 9:44 left. The Catamounts built an eight-point advantage with just over six minutes remaining, following a Janousek jumper. They maintained a three-possession advantage over the next six minutes and with just over two minutes left in regulation had a 64-57 advantage.
Down the stretch, BU got it to within six points, and with just over a minute to go, UVM's Pilypaitis hit both free throws to put her team up by eight, 70-62. Vermont made 6-of-6 attempts at the line to cap off a 74-66 victory.
By winning the America East regular season title, the Terriers clinched a postseason berth in the Women's National Invitation Tournament. They will host Central Connecticut (18-13) in a first-round game onThursday, March 19, at The Roof. The game time is yet to be determined.
Burks-Wiley and Umez-Eronini earned All-Tournament Team honors.