There's Life After a Championship
Checking back with guys from the 1995 team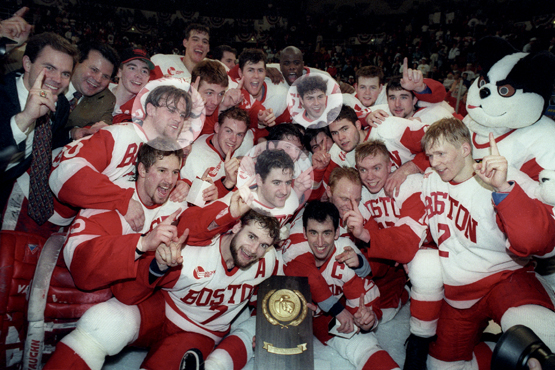 As the Boston University men's hockey team gears up for its first run at a national championship in 12 years, we're taking a look back at the last BU squad to win it all — the 1995 team — through the stories of three players on that team, then and now.
They expected to win. They'd gotten used to it, winning all four years they'd laced up for the Catholic Memorial Knights, a perennial high school hockey powerhouse in West Roxbury. So when goalie Tom Noble (COM'98) and forward Mike Sylvia (SMG'98) came to Boston University for the 1994–95 season, they were counting on a championship.
It wasn't just faith in their abilities. The Terriers had gone to the NCAA finals the year before, only to be trounced 9-1 by Lake Superior State University. Fellow Catholic Memorial alum forward Mike Prendergast (MET'95) had been on that runner-up team, and he was among seven seniors leading the Terriers into the coming season. For them, that expectation of victory sharpened a gut-level sense of unfinished business.
"We understood what it was going to take to get to that final game," remembers Prendergast, "and there was a lot left over from the year before."
On April Fools' Day 1995, that mix of confidence and leadership worked its magic for Noble, Sylvia, Prendergast, and their Terrier teammates, with a 6-2 championship victory over Maine in the Providence Civic Center (now the Dunkin' Donuts Center). It was a rare perfect moment — a national triumph for local guys in their own backyard. That culmination made it easy to believe in the other dream they all shared, to play in the National Hockey League.
It wouldn't take long before they discovered that life has a way of messing with the expectations you have in college. It would take a little longer to realize that that's OK, too.
Terrier times
The most talented hockey players in Massachusetts in the 1990s tended to end up at Catholic Memorial, and the best of those dreamed of playing for BU. The Knights played and practiced in BU's Walter Brown Arena (often against their archrival, Boston College High School). Their coach, Bill Hanson (SED'71), had played for BU and was a friend of Jack Parker's. Parker (SMG'68, Hon.'97) had graduated from Catholic Memorial in 1963 and joined the Terriers, becoming head coach a decade later.
"Our high school team was kind of a funnel to BU," recalls Sylvia, who had an offer to play for Harvard. "Harvard would have been a nice degree," he says, "but then I wouldn't have the national championship."
Just like this year's team, the 1995 Terriers suffered only six losses, took home the Beanpot, and dominated Hockey East. That legacy of winning made the national championship game seem "almost like a normal game," to freshman Noble, the 1995 version of Hockey East MVP and Rookie of the Year Kieran Millan (CAS'12). It helped that they were playing in Providence, close enough to pack the place with students, friends, and family. When it was all over, Sylvia (who scored that night) remembers the Gatorade cooler being dumped on Parker while he was being interviewed by ESPN. Prendergast admits he was in on the celebratory soaking, along with other seniors. "What could he do to us?" he says, laughing. "We were graduating."
On the bus ride back to Boston, the music was loud, and the players could hardly keep their seats. Everybody was euphoric. They pulled up in front of the George Sherman Union and a huge crowd was waiting for them. The celebration moved to T's Pub, and when those doors closed, kept right on rolling through the night. "It was like U2 was in town," says Prendergast. "Everybody was there, just having a great time." A few days later, the seniors took to the field at Fenway Park, where Prendergast tossed the first pitch. It was a strike.
Beyond the game
When you've known nothing but victory, the first taste of failure is tough. For Noble and Sylvia, it came sophomore year. BU made it back to the Frozen Four in 1996, but lost in the semifinals to Michigan. "We were devastated," Sylvia recalls. "We didn't know what to do with ourselves." He and Noble got in a car and started driving south. They ended up in Hilton Head, S.C., where a weekend of golf helped clear their heads.
That same year, Prendergast was experiencing a different dose of reality; life in the "bus leagues" of professional hockey. Like most of his college teammates, Prendergast believed he would end up in the NHL. Most never do, or last for a few short years. Even storied college hockey teams like BU's produce only a few NHL players. But at this level of hockey, the talent margin between a player who becomes an NHL star and one who hangs it up after a stint in the minors can be so thin as to be imperceptible. After all, members of the 1995 BU team like to point out that Chris Drury (CAS'98), now captain of the New York Rangers, centered not their first line, but their fourth line. Sometimes it's about being in the right place at the right time, sometimes a late sharpening of skills or attitude. In any case, the odds are long.
Prendergast played down in Tallahassee for a few months before realizing that the NHL was not going to be knocking on his door. After Sylvia graduated, he skated in Charlotte and Greenville, S.C., and Providence before closing out his hockey career with a season in the French professional league. Noble bounced around even more, riding the bus with eight minor league teams in two years before playing a couple of years more in England and Holland. Then he moved into the family business, Noble Sales, a defense contractor based in Norwell, Mass., that arranges product supply chains and logistics for the military and other government agencies.
Prendergast became a medical equipment salesman and is now a sales representative for California-based Solta Medical. Sylvia went into real estate. A few years ago, he founded the Terrier Group, which handles sales, rentals, renovations, and management of residential properties in the Boston area.
Dreams of NHL glory are easy when you're winning championships, says Prendergast. They get easier to let go of every month that you ride the bus from small rink to small rink.
"Anybody from that team would be lying to you if they said they didn't think they'd one day be in the NHL when we were at BU," says Prendergast. "But reality hits in real fast, and at some point you've got to make a choice." Either keep riding that bus, or find a new career.
All three of them say winning that national title in 1995 made giving up on the NHL easier to take. "It was a wonderful experience. I don't look back thinking I should have done this or done that," says Noble. "Being able to play with the guys I did at BU was something that I'll cherish always."
Not that it's ever really left them. A few years ago, Prendergast hosted a 10-year reunion weekend at his summer place on Martha's Vineyard, and 18 of his old teammates showed up. "It was phenomenal," he says. "Guys we hadn't seen in a decade and we picked up right where we left off. It was like we'd never left school." Sylvia lived in a condo on Bay State Road for four years before moving to South Boston, within walking distance of Noble — who was best man when Sylvia got married last December. They all still play hockey in various men's leagues around town.
"We get a good skate going," Noble says of the team he plays with in Dorchester on Monday nights. "But it's not so much about hockey as it is sitting around the locker room and chewing the fat."
And they continue to cheer on their old team. Noble tries to get to a game whenever he's not on the road for business. Prendergast, who married his BU girlfriend, Melissa Rocca (SMG'95), takes in games with seven-year-old Jack and three-year-old Sophia. Sylvia is a member of the board of the Friends of BU Hockey and a season ticket holder. They see similarities between this year's team and their own. "From the goalie out, they're tremendous," says Prendergast, "and they've got that killer instinct to put teams away like we did."
Any advice for the team as it heads to Washington, D.C., for tomorrow's semifinal against the University of Vermont?
"Don't get caught up in the hoopla," says Noble. "You've had a great season, and you know what it takes to win."
Enjoy the moment, says Sylvia, because you never know if you're going to get back.
"Winning the national championship is probably the number-one topic I get asked about at work, among friends, or even in my business," says Prendergast. "People always remember who won. So make sure you win it."
No pressure.
Chris Berdik can be reached at cberdik@bu.edu.