Taking the Lid Off
Performances that harness humor to unshackle speech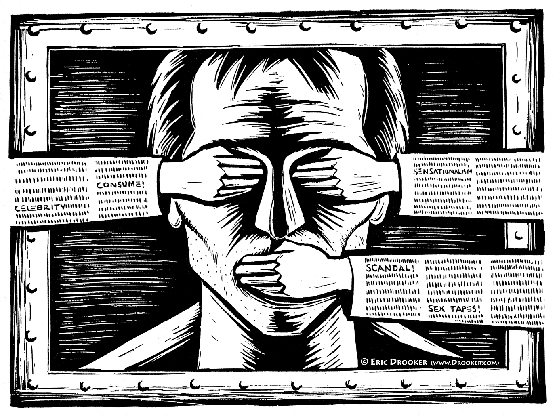 Censorship. We practice it all the time — on ourselves, on each other. But we live in a free society, so what the %&**?!
This question is at the heart of a Shh! a series of satirical sketches staged at the Boston Playwrights' Theatre this month by the New Exhibition Room (NXR). Touching on topics from profanity to the Constitution, this full-length, humor-laden production draws on mythology, current events, Supreme Court cases, banned books, and Sesame Street, among other sources.
"I don't think 'smart' and 'fun' are mutually exclusive," says Nora Long, one of two NXR artistic directors. "Censorship is timeless, whether you are talking about the Alien and Sedition Acts or the less formal manifestos of political correctness. I'm interested in exploring these issues through performance."
NRX derives its name from an era of banned theater. According to its publicity materials, in 1792, a group of Bostonians flouted Massachusetts law by building a theater, the New Exhibition Room. Promoting Shakespeare and Sheridan as "moral and comic lectures," the company played to packed houses for several months before authorities shut it down. The public outcry that followed eventually led to the repeal of the state's theatrical bans.
The world premiere production of Shh! features local artists and plays Thursday, July 16, Friday, July 17, and Saturday, July 18, at 8 p.m., with additional performances Thursday, July 23, Friday, July 24, and Saturday, July 25, at the Boston Playwrights' Theatre, 949 Commonwealth Ave.; 617-353-5443. Performances are free (donations are accepted at the door) and open to the public. Make a reservation here. This production may not be suitable for all ages and (barring censorship) will likely contain some combination of nudity, violence, and adult language and content.
Caleb Daniloff can be reached at cdanilof@bu.edu.