New IT Leader Brings West Coast Experience
Tracy Schroeder sees her main challenge as 'increased scale'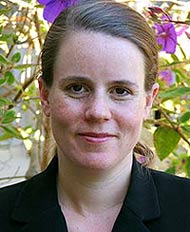 Tracy Schroeder, vice president for information technology and chief information officer at the University of San Francisco, has been named Boston University's vice president for information systems and technology.
BU President Robert A. Brown says Schroeder was chosen because she has the vision and energy to lead a world-class information technology organization.
"Tracy brings to BU the experience of leading a service-oriented university information technology organization," says Brown. "And that includes the implementation of an enterprise resource planning (ERP) system."
Schroeder, who will build on the infrastructure put in place by Michael Krugman, interim vice president for information systems and technology, has been leading San Francisco's information technology services organization since 2002. She was appointed CIO in 2004 and promoted to vice president for information technology in 2005. She has overseen the replacement of campus voice and data network infrastructure, technology upgrades to 90 percent of USF's classrooms, implementation and upgrading of an enterprise portal, and implementation of a new ERP system. She also led the university's information technology service initiatives, including strategic planning, human resources, budget, and special projects.
"This is an exciting time at BU, and I hope to make a significant contribution to the fulfillment of the university's mission and strategic plan," says Schroeder, who starts July 1. "The principal challenge is increased scale, and with that the diversity of needs and complexity of issues. The reward is the opportunity to make a large impact for the benefit of a great institution. That's what motivates me."
Joseph Mercurio, BU's executive vice president, says Schroeder's work at the University of San Francisco demonstrates clear leadership skills in key areas, such as bringing new systems online, improving classroom technology, and revitalizing the structure of an information technology group.
"I'm looking forward to working with Tracy as we begin the transformation of our administrative systems as part of the BUworks project, and as we upgrade out classroom technology," Mercurio says. "I also look forward to having a colleague with expert technical knowledge who also has an advanced degree in English and literature. I know I'll understand what she has to say."
Schroeder has a bachelor's degree from Stanford University and a master's degree from USF.
Art Jahnke can be reached at jahnke@bu.edu.