Women's Lacrosse Starts the Season with High Hopes
Sarah Dalton (CAS'09) named to D-I top 20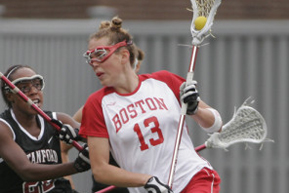 The college sports world is expecting big things from the Boston University women's lacrosse team, which starts its season today with high expectations from the preseason coaches poll and from the magazines Lacrosse and Inside Lacrosse.
The Terriers are ranked 17th heading into the season, according to Lacrosse's preseason poll, and Sarah Dalton (CAS'09), who led the Terriers with 52 goals last year, was named one of Inside Lacrosse's top 20 players in NCAA Division I lacrosse. The team was also picked by the preseason coaches poll to win their fourth consecutive America East title in 2008.
"I am excited to see what this team can put together," says Liz Robertshaw, the head lacrosse coach. "We have gotten some nice press as a team and votes of confidence with the America East preseason rankings, which is great. Our goal is to defend our America East Championship title, make it back to the NCAA tournament, and go further than we have before."
The Terriers are returning six players who scored 20 or more points, including Dalton, a recipient of All-American, All-Region, and All-Conference awards in 2007 and a possible contender for the 2008 Tewaaraton Trophy, given to the nation's top collegiate lacrosse player. Robertshaw also expects cocaptain Lauren Morton (CAS'08) and Traci Landy (CGS'08), the number two and number three scorers on the team last year, to have a major impact. Landy was named the America East Rookie of the Year last year.
The team should benefit as well from a strong freshman class, which includes midfielder Rachel Collins (CAS'11), the sister of cocaptain Molly Collins (CAS'08). Robertshaw says she is looking forward to the new energy, but acknowledges that it may take some time to "get the players clicking." This year's team includes 20 freshmen and sophomores.
"Our youth will be a factor," she says. "The freshmen need to get their feet wet in actual game experience, and the same can be said for our staff — this is just my second year as head coach. We are still working out the kinks and seeing what works to get the most out of our players."
The Terriers kick off the regular season on Wednesday, February 27, at the University of Massachusetts at Amherst. Game time is 2 p.m.
Jessica Ullian can be reached at jullian@bu.edu.