Women's Hockey Starts Fourth Season Strong
Team faces conference rivals tonight, Saturday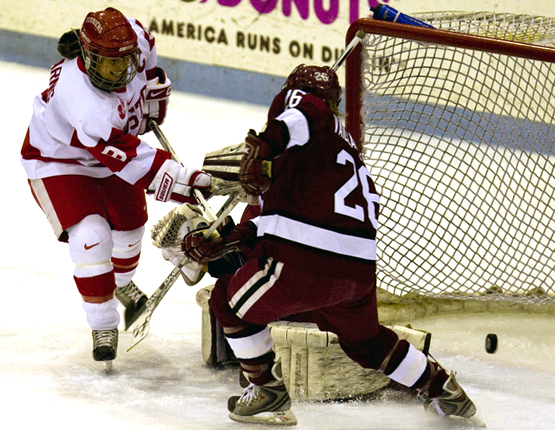 At the start of his fourth season as head coach of the women's hockey program, Brian Durocher has gotten used to the team exceeding his preseason expectations. In 2005, the program's first year, he was shooting for 3 wins — the Terriers racked up 12. The following season, he expected a dozen — they got 19. Now, with two Hockey East rivals knocked off just a month into the season, he's realizing that the team's opponents have higher expectations, too.
"People are going to start gunning for us in the near future — the time's getting here sooner rather than later," Durocher says. "People are looking around the league and saying, 'We've got to put a little more stock in this BU program.'"
After dispatching the University of New Hampshire and the University of Maine last week, the Terriers face another tough weekend of conference play, meeting UNH again tonight, October 30, on the Wildcats' home turf, and going on to face Providence at Walter Brown Arena on Saturday. Durocher expects tough matches. "UNH is going to mark this one with the revenge factor," he says. But the Terriers are still confident, he adds, coming into the weekend with a 5-2-1 record, a five-game unbeaten streak, and the team's first national poll ranking — 10th spot in the USA Today/USA Hockey magazine poll.
Durocher spoke with BU Today about the team's first years, the keys to a winning weekend, and off-the-ice team goals.
BU Today: Is the women's hockey program where you hoped it would be, four years in?
Durocher: Unlike some teams that have started a program and maybe implemented half of their scholarships, we chose a four-step progression — each year we added approximately one-quarter of our scholarships. At a school that has a price tag like BU's, we knew we were going to be a good program, but it wasn't going to be easy.
Last year, anybody who follows the game saw that we played a really high-level schedule, and played every one of those games in close fashion. We didn't get over the hump and win very many of them, so confidence never mushroomed. But this year, we've got three wins and a tie against top-15-type teams, so the kids are gathering a great deal of confidence. This is where we wanted to be in year four, and the support we've had gave us a feeling that we could be a really strong program around the fourth or fifth year. We've had some good bounces.
What are your biggest challenges at the start of this season?
There's still a lot of season ahead of us. UConn, Providence, and UNH are all going to be part of the learning curve. Between them, New Hampshire and Providence have won the last six titles in Hockey East, so I think we just have to stay on the course here. We're trying to get better each day and each week — I don't think there's anything special we have to do other than prepare. Last Saturday, against Maine, I thought we had a bit of potential for a letdown, and I think the kids did a good job of focusing and being prepared. Now we have to not get too full of ourselves because we beat 'em once.
Which players will have an impact this year?
Sarah Russell (SMG'09) and Gina Kearns (SAR'09) do a great job as captains — Gina's been a captain since her sophomore year, and offensively, she's had a real good start. And we've got a freshman, Jenelle Kohanchuk (CGS'10) — those would be the first three who come to mind. On the blue line, Amanda Shaw (SMG'09) is probably our go-to person back here, and she's had a great start. And in goal we've got two great players, Allyse Wilcox (SHA'09) and Melissa Haber (SHA'10).
What is the team's growth potential in the coming years?
The best way I can describe a new team is as a staircase. Each year I knew we were going to take another step up. Now that we're in year four, I think it will level out, and there will be a small ripple each year, all within the context of the top 10 to 15 teams that play the game. Each year we've gotten a little bit stronger, thanks in part to bringing the scholarship players in. The next few years are going to be smaller ripples, but I've enjoyed the process, from the people who helped us get it started to the present people, pushing our expectations higher. Now we have to learn to deal with it.
The women's ice hockey team plays the University of New Hampshire tonight, October 30, at 7 p.m. in Durham, N.H. The game can be heard on WTBU radio. On Saturday, November 1, the team takes on Providence College at 3 p.m. at Walter Brown Arena. Tickets are free for students with a Sports Pass, $3 for faculty, staff, and students without a sports pass, $5 for the public, and $2 per ticket for groups of 10 or more. The game can also be seen on CBS College Sports All-Access, viewed online through GameTracker, or heard on WTBU radio. For more information visit the women's ice hockey home page.
Jessica Ullian can be reached at jullian@bu.edu.