Women's B-ball and Hockey Earn Wins at Winterfest
Men's teams drop games to Vermont, New Hampshire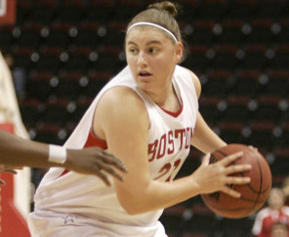 Boston University's women's sports teams had astrong showing at home and on the road last weekend during Winterfest, whilethe men struggled against some top-ranked rivals.
On Saturday, the women's basketball team beat the Universityof New Hampshire in Durham, N.H., 77-75,and women's ice hockey skated to a 1-1 tie with the University of Mainein the team's first-ever game at Agganis Arena. On Sunday, the hockey team beatMaine 4-3,clinching the Terriers' fourth-place slot in Hockey East.
Men's basketball, however, dropped a 70-57 decision to Vermontat Agganis on Friday, and men's hockey fell to the Universityof New Hampshire in a two-game sweep,losing 4-2 on Friday night in Durhamand 5-3 on Saturday at Agganis.
Women's basketball
In Saturday's basketball matchup, Aly Hinton (CAS'10) proved herself to be akey player in the clutch once again, scoring four points in the final 33seconds of the game, including a layup with one second left on the clock. TheTerriers were down by as many as 11 late in the second half, but gained on theWildcats to tie the score at 75 with under a minute left to play. A UNHturnover at midcourt with 25 seconds remaining gave BU the opportunity for thelast play of the game. BU improves to 10-8 overall and 3-2 in the America East,while UNH falls to 3-14 overall and 0-4 in league action.
Men's basketball
John Holland (CGS'09) posted 13 points and earned America East Player of theGame honors in Friday's loss to the Vermont Catamounts. Tyler Morris (SMG'10),a redshirt sophomore, matched Holland'stotal, and Carlos Strong (CGS'09) scored 11. Vermont earned a nine-point lead early inthe game, and although the Terriers came back to lead 25-24 at the half, theCatamounts took over with nearly 16 minutes left and held the advantage for therest of the game. The Terriers fall to 5-14 overall and 2-5 in America East,while the Catamounts improve to 10-9 overall and 5-2 in league play.
Men's hockey
On Friday night at New Hampshire's Whittemore Center, the Terriers were able totie the game after falling behind by two points in the second period, but theWildcats scored twice in the third, knocking in a game-winner with 6:18 left inregulation. Bryan Ewing (CAS'08) and Pete MacArthur (SED'08) each scored for theTerriers.
The Terriers had tied Saturday's game, held at Agganis Arena, 3-3 at the endof the second period, thanks to goals from three freshmen: Nick Bonino(CAS'11), Colin Wilson (CAS'11), and Joe Pereira (CAS'11). But New Hampshire controlledthe third period to complete the sweep. The Terriers fall to 7-13-4 overall and6-8-3 in Hockey East play.
Women's hockey
Jillian Kirchner (SAR'11) scored the lone goal in the Terriers' firstappearance at Agganis Arena on Saturday afternoon. The Terriers outshot the University of Maine's Black Bears, 46-20, but wereheld to a single goal in an overtime tie. On Sunday, also at Agganis, LaurenCherewyk (COM'11), Laurel Koller (CAS'09), Caroline Bourdeau (CGS'07), andco-captain Gina Kearns (SAR'09) each notched goals for the Terriers. The teamis now 8-11-3 overall and 5-5-1 in Hockey East.
Jessica Ullian can be reached at jullian@bu.edu.