Students Trade Hotels for Campus Housing
New program offered perks for those choosing hotels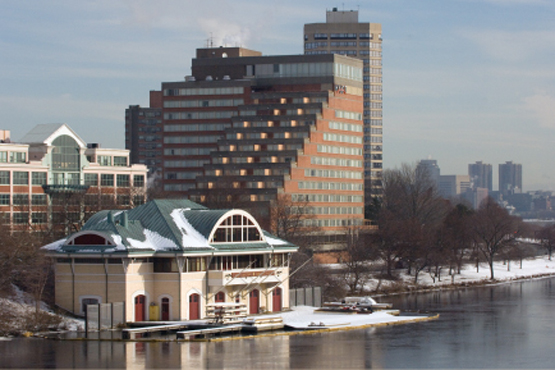 This month, 282 Boston University students traded housekeeping services and private bathrooms for smaller space and communal showers. The students who lived in Cambridge's Hyatt Regency Hotel or Brookline's Holiday Inn fall semester have all moved out of the hotels, and most are now living on campus.
The mid-year move is now routine for the University's Office of Housing, but for the 2007–2008 school year officials took an experimental approach to hotel assignments. In previous years, students living in hotels were mostly first-years, transfers, and those assigned to dorms that were being renovated. Last year, in an effort to keep all freshmen on campus, the Office of Housing promised any upperclassmen who opted to live in a hotel fall semester priority when choosing their housing for the 2008–2009 school year.
"The experiment was very successful," says Marc Robillard, director of housing. "Come January, many hotel residents did not even need to be reassigned because many went abroad or graduated. It makes it a lot easier, for both the students and the Office of Housing." Only 64 percent of the hotel residents needed campus housing, and the number of students returning to campus dropped as well, from 544 last year to 282.
Each fall, high freshmen enrollment and ongoing renovations in the residence halls lead to a housing overflow. Since 1994, Boston University has used nearby hotels for students who couldn't be accommodated on campus. They live in the hotels for the fall semester only. "The student population is always smaller spring semester," Robillard explains. "Students go abroad, graduate, and withdraw, which creates space for students from the hotels."
The previous situation made adjustment to college harder for the freshmen assigned to the hotels. "A common complaint among freshmen living in the hotels was that they felt disconnected from the campus. They didn't know the campus as well, and they didn't feel like they were getting the huge freshman social experience that comes with living in a big residence hall," Robillard says.
The experiment of housing upperclassmen in the hotels will likely be continued next year. "It makes better sense," Robillard says. "Freshmen want that really intense social experience where they meet lots of people, and a place like Warren Towers definitely provides that experience. Sophomores tend to want to live with their friends in a quieter setting."
Living in the hotels does have some advantages: students get to choose their roommates, and twice-weekly cleaning service, private bathrooms, and air conditioning are also among the perks, Robillard says. Students form their own residence hall associations and hold regular social events, just as their peers in campus housing do.
A often-heard complaint is that students are farther away from campus. Although a shuttle bus travels between the Hyatt and Comm. Ave., Robillard says, it is not always reliable.
By 2009, BU may no longer have to rely on the hotels for housing. Student Village II, scheduled to open in fall 2009, will add 960 beds and enable 85 percent of undergraduates to live on campus. Current on-campus capacity is 10,616, with 77 percent of undergraduates living in campus housing.
Vicky Waltz can be reached at vwaltz@bu.edu.