Men's Hockey Meets BC at Conte on Saturday
Terriers prepare to start 2008 off right with archrival Eagles after two losses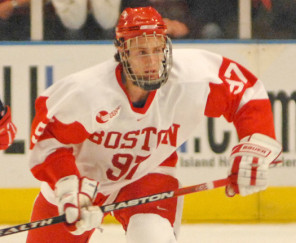 Dropping two games to archrival Boston College earlier this season, while admittedly disappointing, may just give the men's ice hockey Terriers the edge they need when they face the Eagles tomorrow, January 19. This weekend's match, hosted by BC at the Conte Forum in Chestnut Hill, marks the last time the teams meet before the first round of the annual Beanpot Tournament on Monday, February 4, at TD Banknorth Garden.
The Terriers have faced 12th-ranked BC twice this season, in a two-game weekend series that resulted in losses for BU. At their first meeting, on November 30, the Terriers went down 6-2. The following day, they bit the dust again, this time by a score of 4-3. BU is 6-11-3 overall for the season thus far, with a 5-6-2 Hockey East record. BC's record is 10-5-5 overall, 6-3-4 Hockey East.
The Terriers had an extended break over the holidays after bad weather postponed a December 13 game against Dartmouth. They returned to the ice on December 30, picking up a 5-2 victory over Merrimack, and tied the Vermont Catamounts 2-2 in overtime January 5, in their first game of 2008.
Since then, BU has overcome Maine — the 3-1 victory on January 12 improved the team's standing to 6-10-3. On January 15, the Terriers hosted their final nonconference game of the season, a rescheduling of December's game against Dartmouth, which they lost 3-2 in a face-off near the end of the fourth quarter. BU meets Merrimack again tonight, Friday, January 18.
Saturday's game at BC begins at 7 p.m. and can be heard on WWZN 1510 AM.
Amy Laskowski can be reached at amlaskow@bu.edu.