Men's Hockey Advances in Hockey East; Women's B-ball Falls in Title Game
Terriers head to semi-final game on Friday night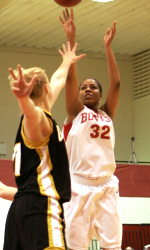 The men's ice hockey team advanced to the Hockey Eastsemifinals last night after a three-game weekend series against the University of Massachusetts, Lowell, River Hawks. Aftera win on Friday and a loss on Saturday, the Terriers beat UMass, 4-2, atAgganis Arena on Sunday. Pete MacArthur (SED'08) scored two goals and brought hisseason point tally to 45, making him the first BU player to earn that many points inthe regular season since Chris Drury (CAS'98).
The women's basketball team faced top-seeded Hartford in the AmericaEast title game on Sunday night, but fell to the Hawks, 61-45.
Men's Hockey: Terriers Beat River Hawks in Best of Three Quarterfinal
BOSTON — The number 14/13 Boston University men's ice hockey team overcame a pairof early goals by UMass-Lowell, reeling off the game's final fourtallies to post a 4-2 victory on Sunday evening in the third anddecisive game of the teams' Hockey East quarterfinal series. Playing inhis final game at Agganis Arena, Pete MacArthur (SED'08) scored a pair of goals, helping the Terriers improve to 19-16-4.
For the seventh straight season, BU will be making an appearance at theTD Banknorth Garden for the Hockey East semifinal round. Thesecond-seeded Terriers will face third-seeded Vermont in the secondsemifinal matchup, at 8 p.m. on Friday, March 21.
Brett Bennett (CAS'10) stopped the final 21 shots he faced as part of a 24-save performance. Nick Bonino (CAS'11) started the rally with his 16th goal of the season and later set up the game-winner, which came from the stick of Jason Lawrence (CAS'09).
The River Hawks, who close their season with a record of16-17-4, got first-period goals just 20 seconds apart from sophomoreKory Falite and freshman Scott Campbell. Sophomore netminder CarterHutton made 23 saves on the night.
Women's Basketball: Terriers Fall to Hartford in AE Title Game, 61-45
WEST HARTFORD, Conn. — The Boston University women'sbasketball team (20-12) fell to top-seeded Hartford, 61-45, on Sunday eveningin the America East title game in West Hartford, Conn. Forward JesykaBurks-Wiley (CGS'07, CAS'09) led with 12 points, and point guard ChristineKinneary (CAS'09) chipped in 11. Burks-Wiley and CheriRaffo (SAR'08) earned all-tournament team honors for their efforts over the threepostseason contests.
Against Hartford,Burks-Wiley was 4-for-7 from the field and 2-for-3 from the line, with sixrebounds, while Kinneary was 4-for-12, with two assists. AmarachiUmez-Eronini (SAR'09) had two steals in the game ,and KaseyDevine (CGS'06, SMG'08) swatted two shots.
BU shot 26.3 percent for the game and was 84.6 percent(11-for-13) from the line.
The Terriers scored six fast-break points and posted 11second-chance points. The Terriers fell into an early 9-2 hole as they went thefirst 2:10 without a basket; however, Kinneary cut the deficit to four when shewent in for the layup and drew the foul at 15:39, converting on the three-pointplay. Devine closed the gap to two points with a jumper, and BU remained withintwo points over the next four minutes. Raffo made it a one-point game with along three after BU dropped down by four at 9:25. The Hawks went on a 6-0 spurtto increase its lead to 21-14 with five minutes remaining in the first stanza. Hartford closed out thehalf with a 28-20 advantage after holding BU scoreless for nearly three minutesto post its largest lead of the half until Raffo hit two free throws with 15seconds left.
In the second half, the Hawks started on a 5-2 spurt to movethe score to 33-21, and they opened up a 12-point lead at 17:49 when MaryLynneSchaefer made three consecutive free throws. Burks-Wiley closed the gap with atrey at 16:02 to put the deficit at 11, 41-30.
Hartfordincreased its lead to 16 points, 50-34, at 9:28, and continued to maintain adouble-figure lead over the next four minutes. With four minutes remaining inregulation, the Hawks held a 56-43 advantage, backed by clutch free throwshooting from senior Danielle Hood. Hartfordclosed out the game on a 9-2 run to put the final score at 61-45.