Health Matters: Ovarian Cancer and the Pill
Study finds that birth control pills protect against ovarian cancer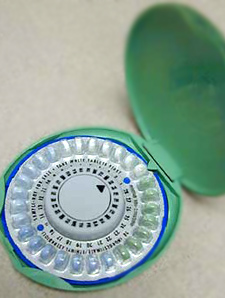 An estimated 100 million women worldwide take oral contraceptives, which provide reliable protection against pregnancy and can help to regulate periods. But they aren't without problems, such as a possible increased risk of breast and cervical cancer.
But a recent study, published in the British medical journal The Lancet, found that birth control pills lower a woman's risk of contracting ovarian cancer. Older women have the highest risk of getting ovarian cancer; around two-thirds of those affected are 55 years or older, according to the journal. The study found also that the longer women are on birth control pills, the more protection they have and that the protection of the pill extends approximately 30 years after women stop taking it.
Researchers compiled data from 45 studies in 21 countries. They write that during the past 50 years, oral contraceptives have prevented 200,000 cases of ovarian cancer and 100,000 deaths from the disease. The study predicts that over the next few decades the number of cancers prevented will rise to 30,000 per year. "[The study] shows beyond doubt that ovarian cancers can be prevented by the long-term use of different generations of oral contraceptives," according to an editorial in The Lancet. "Moreover, this substantial protection begins quickly, and increases with increasing duration of use."
Another concern about oral contraceptives is their possible link to increased risk of contracting breast cancer. The Lancet researchers note that such a risk is small. Susan Haas, a School of Medicine associate professor of obstetrics and gynecology and vice chair of the division of obstetrics and gynecology at Boston Medical Center, believes that the chance of getting breast cancer from using oral contraception is negligible. "The correlation between the birth control pill and the risk of breast cancer is mixed," she says. "I think the best summary evidence now would say that the pill does not increase the risk of breast cancer."
Haas adds, "I think the main reason that young women should be on the pill should be for contraception. That's an overwhelmingly more important issue for young women, rather than long-term issue of ovarian cancer."
Amy Laskowski can be reached at amlaskow@bu.edu.