Fall Sports Take Top Spot in America East Directors' Cup Standings
Terriers rank 50th among all NCAA D-I schools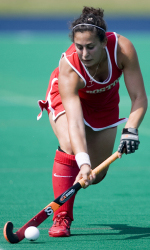 The season is over for Boston University's fall sports teams, but accolades for the Terriers are still rolling in. This month, BU earned the top spot in the Directors' Cup standings in the America East conference for the fall season, thanks to the success of the women's field hockey and the men's and women's soccer teams. The Terriers' final score of 110 points also placed BU among the top 3 schools in BU's NCAA Division I peer group and in 50th place among all Division I schools.
"Congratulations are in order for our fall student-athletes and their coaches," says Mike Lynch, BU's assistant vice president and director of athletics. "The Directors' Cup is the most recognized standard for across-the-board athletic success in college athletics. To rank among the 50 most successful Division I athletic departments is a terrific achievement, and to place in the top 3 among similarly structured athletic departments is simply exceptional."
The Directors' Cup is an annual award presented by the National Association of Collegiate Directors of Athletics and is given to men's and women's collegiate sports programs that excel in a variety of sports. The rankings are determined by a point system based on final national standings in NCAA-sponsored sports for both men and women.
Women's field hockey made an appearance in the quarterfinals of the NCAA championship tournament and finished in fifth place in the NCAA standings, earning 60 points. The men's and women's soccer teams both finished in 33rd place nationally and earned 25 points each after qualifying for their respective NCAA tournaments this fall. Points are awarded based on each institution's results in up to 20 sports — 10 women's and 10 men's — and the overall champion is the institution that records the highest number of points in its division.
In addition, 48 Terrier athletes from fall sports teams were named to the America East Academic Honor Roll this month. The women's field hockey and women's soccer teams each had 14 representatives, joined by 10 from men's soccer, 8 from women's cross country, and 2 from men's cross country. Of the 48, 18 were also included on the Commissioner's Honor Roll, which recognizes students who have earned a grade point average of at least 3.5 for the semester.
Amy Laskowski can be reached at amlaskow@bu.edu.