WBUR's Paul La Camera Elected to Academy of Distinguished Bostonians
Honor caps 19 months of progress at BU's NPR station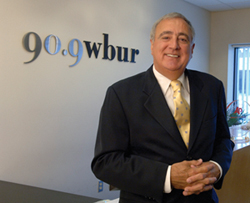 Paul La Camera had one small concern when he accepted the job of general manager of the WBUR Group in October 2005. La Camera (COM'66), who had spent 33 years in the rough-and-tumble world of commercial television, was not 100 percent certain that people who choose to work at a public radio station have the kind of drive he was accustomed to. Now, 19 months later, La Camera has a different idea.
 
"These people," says La Camera of his staff at WBUR, "are the most dedicated, serious, hardworking, and committed individuals that I've ever been around."
The accuracy of La Camera's opinion can be seen in nearly every aspect of Boston University's National Public Radio station: awards for editorial excellence, listenership numbers, and fundraising. La Camera himself will receive an award indicative of the esteem in which he is held by the local community when he is inducted into the Greater Boston Chamber of Commerce's Academy of Distinguished Bostonians at its annual meeting on Thursday, May 10, at the Westin Boston Waterfront. The general manager of WBUR was selected, according to the chamber, for his significant contributions to greater Boston. La Camera is involved in such local nonprofit and philanthropic organizations as Catholic Charities, the Boston Public Library Foundation, and the United Way of Massachusetts Bay. Being inducted with him are Charles K. Gifford, Bank of America chairman emeritus; Rev. Gloria E. White-Hammond, copastor of the Bethel AME Church; and Rev. Ray A. Hammond (Hon.'99), senior pastor of the Bethel AME Church. 
John Davidow, WBUR news director and managing editor, is not surprised that his boss is being honored for his commitment to Boston. "Paul recognizes that local news is every bit as important as the national and international coverage that WBUR is known for," says Davidow, who worked with La Camera at WCVB-TV, Boston's ABC affiliate. Toward that end, he says, the radio station has hired reporter David Boeri to host a weekly hour-long show focused on Boston.
"We are taking this show very seriously," La Camera says. "We are adding five people to the news staff. It's going to be very substantive."
Davidow describes the new show as a key part of La Camera's vision "to make the station a local news power as well as a national and international news resource."
That resource has been racking up editorial awards right and left. Earlier this year, WBUR was honored by the Associated Press, winning top placement in five news categories for large-market stations in Massachusetts and Rhode Island: general news, documentary, sports program, public affairs, and use of sound. The station also captured four Edward R. Murrow Awards in the New England Radio-Television News Directors Association (RTNDA) large-market division competition. Last year the station had a similar embarrassment of riches: first-place honors in seven of nine New England RTNDA categories, including general excellence, continuing coverage (of Hurricane Katrina), hard news features (on college drug abuse), and news series (on the academic achievement gap among minority school students).
Another indication of the station's success is increased listener numbers. Data released last year by the broadcast ratings agency Arbitron show that an average of 475,000 people in the Boston metro area tuned in to WBUR during the final quarter of 2005, an increase of nearly 14 percent from the same period in 2004.
And fundraising is going so well, says La Camera, that the impending June pledge period has been shortened from seven days to four. He says that half of the station's $20 million budget now comes from corporate sponsorships, 95 percent of them local companies.
What's left to do? La Camera plans to keep his hardworking staff busy. He would like to produce more documentaries, encouraged by the success of a recent series on Boston Medical Center and by the promise of an upcoming series on end-of-life issues in teaching hospitals. And, he says, he is looking forward to bolstering the station's Web presence.
Before joining WBUR, La Camera worked at WCVB-TV for more than 33 years, including almost 12 years as president and general manager. He served on the White House Advisory Committee (Gore Commission) on Public Interest Obligations of Digital Television Broadcasters. He has testified on local television issues before both the Federal Communications Commission and the U.S. House Telecommunications Subcommittee.
La Camera is a board member of the Boston Foundation, the Boston Public Library Foundation, the United Way of Massachusetts Bay, and the Greater Boston Chamber of Commerce.
Art Jahnke can be reached at jahnke@bu.edu.