The Year in Service: Students Work to Feed Boston's Hungry and Homeless
Part three of a five-part series on giving back to the community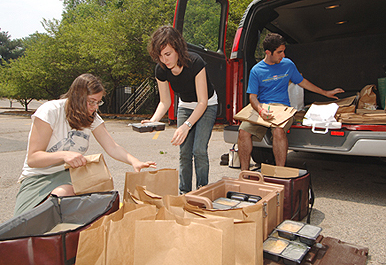 Whether they're delivering food to local homeless shelters or cleaning up the disaster-stricken Gulf Coast, many students at Boston University are eager to help people in need, in Boston and beyond. BU's Community Service Center, which celebrated its 20th anniversary this past spring, is a great place for students to seek volunteer opportunities. With 13 student-run service programs — including the popular Alternative Spring Break and Student Food Rescue programs — and a volunteer base of approximately 1,500 people, the CSC clocks in more than 75,000 service hours each year.
In this series, BU Today looks at five community service projects undertaken by BU students during the 2006-2007 academic year. Click here to see "Rebuilding Biloxi: An ASB Story." Click here to see "FYSOP Opens Up Boston and BU." Check back tomorrow for "Giving Thanks, and Time, Year-Round."
Students Work to Feed Boston's Hungry and Homeless
Nationally recognized program keeps on truckin' during the summer

Rachel Mennies takes a moment to fan herself with her hand as she hefts brown paper bags of food into the BU Student Food Rescue van. The temperature on this humid afternoon is 86 degrees and rising, and Mennies and her fellow volunteers are looking forward to the cool blast of the van's air conditioning awaiting them once it's loaded.
The volunteers have just received a shipment of meals from Community Servings, a nonprofit organization in Boston that prepares dishes for people living with AIDS and other life-threatening diseases. Mennies (CAS'08), Maddy Weber (COM'08), and Steve Reilly (CAS'07) sort the 19 lunches in the proper order of their delivery schedule and head out of the parking lot of 808 Commonwealth Ave. for an apartment complex in Boston's Fenway neighborhood.
"This run takes about two hours," says Mennies. "It's easy to fit into a busy schedule." Mennies and Weber know a thing or two about busy schedules. They are working on campus all summer as coordinators for another initiative: the BU Community Service Center's First-Year Student Outreach Project (FYSOP), which offers freshmen the opportunity to perform a week of volunteer community service before their fall classes begin.
The 18-year-old Student Food Rescue, another effort of the Community Service Center, operates 17 food runs a week during the school year — feeding an estimated 1,000 people — with the help of 60 to 70 student volunteers. "We also do about 15 runs a week during the summer," says Marianne McPhee (COM'07), the program's summer manager. "We have a more limited volunteer pool after spring classes end, but there are still more than 50 students helping us out. We are proud to keep this program going strong year-round."
And the volunteers are also proud of the fact that they are part of the most successful and consistent food salvage program in the country. In summer 2005 the University's program was recognized as such by the National Student Campaign Against Hunger and Homelessness. Each year Student Food Rescue collects almost 300,000 pounds of food from local restaurants, supermarkets, bakeries, coffee shops, and such grocery surplus facilities as Fair Foods in Dorchester.
The food the students collect is safe to eat, but is approaching its expiration date and destined for the dumpster unless volunteers can quickly ship it to places such as the Allston Brighton Food Pantry, the Boston Rescue Mission, and the homeless shelter Rosie's Place. That's where Student Food Rescue comes in: with three runs a day, few products languish on store shelves and spoil.
Nationally, demand for emergency food assistance increased by 14 percent over the last year, according to the U.S. Conference of Mayors. Despite that effort, more than 96 billion pounds of food goes to waste in the United States every year. Food banks and soup kitchens, looking for innovative sources of food, are increasingly depending on college volunteers to get food to cities' most vulnerable citizens. "This is excess food that would in most cases be thrown away," says Weber. "We take it to where it will be used."
The van pulls into the parking lot of an apartment building on Queensbury Street in the Fenway, and Reilly carefully searches for an unloading spot that won't block a car. "This meal is labeled 'no fish,' " explains Mennies, matching the bag with the address. "There are special dietary restrictions on many of these deliveries, such as 'no nuts' and 'diabetic meal.' " She steps out of the van into the blinding sun and stifling heat and rings the doorbell. "Try to stay cool," says the grateful recipient of the bagged lunch. "We'll try," Mennies replies.
"The Community Servings deliveries are especially gratifying," she says as the van heads down Beacon Street to the next stop, in Allston. "We get to see the direct impact of what we're doing."

"Students Work to Feed Boston's Hungry and Homeless" originally ran on BU Today on June 6, 2006.