Jean Chapman's Altar Ego
University switchboard operator finds calling by ministering to homeless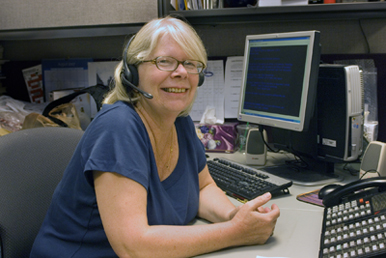 It's been more than a year, but Jean Chapman is still a little skittish about being called "Reverend."
"I still tend to look over my shoulder — oh! they're talking to me," she says with a laugh.
Chapman (STH'05), who works nights on the Boston University switchboard and days ministering to the homeless on the streets of Cambridge, certainly does not look like the pious stereotype of someone in her profession. An hour before starting a Saturday night shift on the switchboard, she wears a red sweatshirt sporting the University's name.
In fact, a decade of responding to and directing callers as a night switchboard operator may have been good training for becoming a Baptist street minister.
"When you go into ministry," Chapman says, "there's a thing we say: you have a calling. It's a combination of feeling like you want to do something and that something else is propelling you."
Following that feeling, in 1994 Chapman began her pursuit of a longtime dream by taking classes at a seminary in Newton. When she started working at BU three years later, she took advantage of the University's tuition remission program to begin studying for a master's in divinity from the School of Theology.
"It worked with my weird schedule," she says. "But truthfully, halfway through, I was asking myself, how important is it to be ordained to do what you want to do? Is it just ego?"
Chapman says she began to find her purpose while volunteering at a secular homeless shelter in Cambridge, where she did "gofer" work, such as organizing donated goods. "I began to have exposure to folks who are on the street," she says. "I found I was just really comfortable with them. I liked them."
The  divinity student, who happened to live in one of Boston's suburban towns, had long wanted to incorporate her faith into her volunteer work, but was unsure of the best way to do it.
For guidance, she says, she prayed. A year before graduating from STH, she found the answer. It was the Outdoor Church, a nondenominational Cambridge-based ministry that performs prayer services for the homeless, who for whatever reason cannot or will not enter conventional churches. Using a pushcart to carry food, a Bible, communion wafers, and an altar cloth, Chapman now leads a 9 a.m. service each Sunday in Cambridge's Porter Square.
"We don't preach, and we don't even have a homily," she says. "After the scripture is read, we open it up to the group to respond. The thoughts they offer up, the insights they share, are just inspiring at times, they're heartbreaking at times, but they make it clear to me that this is exactly the place I want to be."