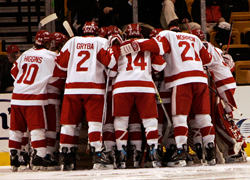 The men's hockey teams of Boston University and Cornell will see red when they face off in November for the first time in five years. The teams share the color, and the stands are likely to be flooded with it during a game that renews a storied hockey rivalry. The matchup will take place on Saturday, November 24, at 8 p.m. at New York City's Madison Square Garden.
The BU-Cornell rivalry dates back to 1925, when the Terriers posted a 7-2 win. In the late 1960s, both teams were members of the ECAC Hockey League and were fighting for the title each year. From 1967 to 1977, the Terriers and the Big Red each won the ECAC crown five times. BU won national championships in 1971, 1972, 1978, and 1995, and Cornell took home the trophy in 1967 and 1970.
In 1984 BU left the ECAC to join Hockey East, ending the teams' yearly conference matchups. The last time BU and Cornell met was during the 2002–03 season, when Cornell skated to a 5-1 victory. The team's all-time record against BU is 26-16-1.
"This should be a fabulous event for the players and their families, as well as our fans and alumni," says BU head hockey coach Jack Parker (SMG'68, Hon.'97). "Hockey is a passionate game and these are passionate hockey schools. It should make for an exciting game."
More than 600 tickets have been sold at BU alone, says Ricky Junquera (CGS'06, CAS'08), a member of BU's Dog Pound, as BU's diehard hockey fans are known. "It's going to be ginormous," he says. "So many of us have pride in being a BU student — we wear our colors on our chest."
The game falls on the Saturday of the long Thanksgiving weekend. "This game gives students something to do right before coming back to school," Junquera says. "There is going to be a huge group of current Dog Pound members and alumni there."
BU finished last season 20-10-9 overall, with a 13-6-8 conference record. A season highlight was BU's exciting win in the Beanpot final on February 12. Brian McGuirk (MET'08) scored the game-winning goal in overtime for a 2-1 rout of archrival Boston College. The Eagles got their revenge later in the season though, beating BU 6-2 in the Hockey East semifinals. In the NCAA first round, Michigan State University bested BU, 5-1.
The Terriers welcome seven newcomers to the roster this season: forwards Nick Bonino (CAS'11), Joe Pereira (CAS'11), Victor Saponari (SMG'11), and Colin Wilson (CAS'11), defenders Colby Cohen (CAS'11) and Kevin Shattenkirk (CAS'11), and goalie Adam Kraus (CAS'11).
Tickets to the BU-Cornell hockey game on Saturday, November 24, at Madison Square Garden are available through Ticketmaster and at the Agganis Arena box office. For more information, call 617-353-4628.
Abby Jordan can be reached at ajordan@bu.edu.