Wanted: Tales of Childhood Woe
"Mortified" presents the hilarity and heroism of teen letters and journals"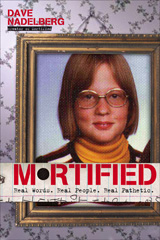 Anyone who's ever dug out a junior-high love letter knows the feeling. So does anybody who's found a yellowing notebook filled with odes to Bon Jovi or journal entries like, "So long utopia — Hello high school!" 
These are the sometimes goofy, often overwrought, but oh-so-real worries, obsessions, and yearnings of adolescence — and they're on display in Mortified, a comedy performance stopping in Boston tonight, November 29, at the Paradise Lounge, 969 Commonwealth Ave.
Mortified shows, which have also run in Los Angeles, New York, San Francisco, and Chicago, are the brainchild of David Nadelberg, a writer, producer, and "angstologist," who lives in Los Angeles. They feature real people reading excerpts from their childhood letters, journals, and other "tales of woe." Boston's Mortified is cosponsored by Barnes & Noble at BU, and following the stage performance, Nadelberg will sign copies of his anthology Mortified: Real Words. Real People. Real Pathetic.
Nadelberg thought up the idea of performing diary entries in the late 1990s after finding a long-lost letter to his 10th grade crush, Leslie (never delivered). "That was a lucky find in two ways," he says. "Lucky because I was able to find it and it inspired a show, and also lucky that I never sent it, because it really would have creeped her out."
While all the readers in the show have been screened via an audition process, the entries and the memories they dredge up are their own. Nadelberg says he is always seeking out new people willing to try for a chance to "share the shame."
"We are captivated by others' innermost musings because in them we spot our own awkward identities," Nadelberg writes in his anthology's introduction. "Witnessing them, in all their startling clumsiness, we can't help but laugh. [Nevertheless,] we desperately want these kids to come out OK." And the good news, he concludes, is this: "You grow up. You survive."
BU Today spoke recently with Nadelberg about the show and the book. Tonight's mortification at the Paradise starts at 8 p.m. Tickets are $10 in advance and $12 at the door.

BU Today: In the introduction to the anthology you say there's something "sadly heroic" about each of the entries. Heroic in what sense?
Nadelberg: This is a comedy project, of course, but I find all these people are kind of heroes to me, partly because as adults they're sharing these private thoughts, and partly because they're all really great underdog tales. The book really covers a spectrum of youth and adolescence — from the love letters of some kid who has never had sex to the diaries and poems of a girl who is clearly in the fast lane of life — but deep down, when you look at the core of these pieces, they're all really the same kid wrestling with their identity. I'm certainly one to embrace all shortcomings, and I think the way to get over whatever hurdles and humps that are ingrained in our personalities or our genes is to sort of take ownership of them.
When it comes to finding new tales of adolescent woe, what are you looking for in the casting process?
Well, it has nothing to do with acting talent. In terms of performance, I just look for people who are really good at playing themselves, and pretty much anybody has that ability.
In terms of the material, I generally find that when kids were passionate about something, even if it's really stupid, if they wrote about something with verve, it just becomes really riveting. Because the protagonist is glued to the subject, so are we. It's not just about the mortifying events that happened. It's not just about "when I was in third grade, my pants fell down." Our project is more how the kid saw the world when his pants fell down. 
Even if we're primarily a comedy show, often what comes out are these revealing windows into someone's life and sometimes even a little social commentary. It's a mixture of art and archaeology, and what that means is that secretly, behind the scenes, we're just as deep and pretentious as the material we're presenting.

Boston is just one of several "mortified cities" where these performances take place. How does Boston stack up in terms of mortification?
That's kind of the beauty of this project. No matter where you go, if we opened up in Tokyo, we'd find the same exact stories, just different clothes and different languages. The only thing different in each city is the professional makeup of who's on stage and who's in the audience. In San Francisco, it's a lot of techie people working in start-ups. In LA, there are more comics and actors. And in Boston, it's, I don't know, smarty-pants people.
I have to ask: have you heard from Leslie since the Mortified tour began?
No. I have no idea if she's married or miserable or Miss America. In a weird way that I think is just as creepy as the letter I wrote to her, I kind of feel like this show is me finally giving this letter to her. Somewhere out there, in some bizarre way, the message has been received.
What's the next big, mortifying thing?
We're really excited, since this is a show about youth, adolescence, and change, and our own project is going through its own coming of age. This book is hopefully a tipping point for a lot of new things. For instance, we just launched our debut Mortified animated short, and we'd love to do more of those. There are also people across the country hosting DIY Mortified cocktail parties, and we heard about those and we wanted to try and encourage more of those, maybe with a Mortified board game or something. Finally, I just partnered with a filmmaker to do a documentary. So there are a whole bunch of different things in the works. The idea is this is a brand, and the brand is all things angst.
Chris Berdik can be reached at cberdik@bu.edu.