Vita Paladino named director of Gotlieb Archival Research Center
Vibrant personality plans to fulfill the legacy of her charismatic mentor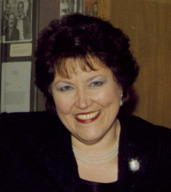 Boston University's Gotlieb Archival Research Center is famous for being home to the famous — or at least home to their collections. That home-making started in the 1960s, when founding director Howard Gotlieb pioneered the practice of gathering personal papers from contemporary figures while they were still living, an accomplishment that required charm and subtlety, two qualities Gotlieb had in abundance. Instituted in 1963 as Special Collections, the center, which was renamed for its founder in 2003 on the occasion of its 40th anniversary, now holds the papers of more than 2,000 people, from the Founding Fathers to Fred Astaire and from Theodore Roosevelt to Mary Louise Parker.
Gotlieb died on December 1, 2005, and Vita Paladino, who last week was appointed director after having been managing director since 2004, hopes to fulfill and expand on his legacy. Paladino worked with Gotlieb for 30 years and likes to evoke the vitality and closeness of their friendship by saying that they were "joined at the hip."
"Vita has effectively nurtured the center and expanded its considerable holdings using her persistence, persuasiveness, and passion," says Provost David Campbell. "Not only has she embraced the founder's vision, she has further advanced the center and its relevance to the University and to the community."
Paladino, who came from New York to BU in 1973, first met Gotlieb in 1976 when she answered an ad reading, "Must be willing to work with authors and famous people." "I thought that it was absolutely for me," Paladino recalls. "It had my name written on it. He wanted me to start the next day."
"Howard and I enhanced each other's ideas and dreams and made them a reality," she says. "I certainly learned all the secret recipes to the archival industry and most certainly the dealings and family business that are involved with collecting contemporary individuals. Today we are one of the top five repositories in America specializing in contemporary public figures."
Paladino (MET'79, SSW'93) has a bachelor's in sociology and a master's in social work, both from the University, and she says her clinical social work degree comes in handy when negotiating the acquisition of new collections.
"One can be trained in archival practices very easily," she says. "But when you are dealing with the major rainmakers of our time and their families, one has to be equipped with compassion, sensitivity, loyalty, intuition, and common sense in order to be successful in obtaining and retaining individual archives. Within these archives are the documents that reveal the facts and secrets of people's lives, the true person behind the public persona. Thus it is not much different in a sense from being a therapist and listening to those facts and secrets. Howard used to say, 'You have your therapist and your curator.' Sometimes we are both."
The Gotlieb Center, under Paladino's directorship, will continue its efforts to reach out to and be a resource for BU students and the community surrounding the University. "My mission as director will be to create more educational outreach events which provide a source of enrichment to our students, faculty, researchers, and local community," Paladino says. "After all, those who we collect serve as role models and mentors to our students."