The story of a city in pictures
Historic photographs of 19th century Boston at BU Art Gallery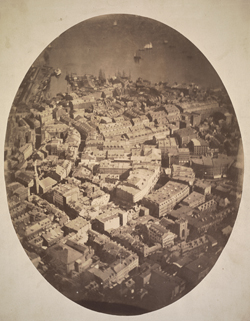 Before digital photography, there was film. And before film, there were daguerreotypes, made by exposing a silver-plated sheet that had been coated with iodine vapor to the desired image, then developing the image over heated mercury. Before daguerreotypes, there were salt prints, created by placing a salt-soaked and silver nitrate–coated sheet of paper directly beneath a negative and exposing it to sunlight for hours.
Examples of all these techniques, holding images of life in Boston from 1840 to 1865, are on display this week through April 2 at the Boston University Art Gallery.
Aptly named A Photographic Portrait of Boston, 1840–1865, the exhibition presents more than 140 images, including several important works that have never before been shown in public.
The show includes pictures made by Albert Sands Southworth and Josiah Johnson Hawes, two Bostonians who worked together from 1843 to 1862 and are now considered the first great masters of American photography.
Included also are the work of the well-known team of Whipple and Black and that of many lesser known yet important photographic pioneers such as Asa White, Lorenzo G. Chase, and Edward Tyler. The exhibition draws from four major historic archives: the Boston Athenaeum, the Boston Public Library, Historic New England, and the Massachusetts Historical Society.
The BU Art Gallery is located in the College of Fine Arts, at 855 Commonwealth Ave. It is open Tuesday to Friday from 10 a.m. to 5 p.m. and Saturday and Sunday from 1 to 5 p.m. The exhibition is free and open to the public.
Gallery talks about A Photographic Portrait of Boston, 1840–1865 are listed below:
Thursday, February 16, 4 p.m.
Anna Lee Kamplain, Exhibition curator, Jan and Warren Adelson Fellow in American Art, Boston University
Thursday, March 2, 4 p.m.
Sally Pierce, Curator of prints and photographs, Boston Athenaeum
Thursday, March 9, 4 p.m.
Lorna Condon, Curator of library and archives, Historic New England
Thursday, March 16, 4 p.m.
Anne Bentley, Curator of art, Massachusetts Historical Society
Thursday, March 23, 4 p.m.
Aaron Schmidt, Curator of photographs, Boston Public Library
   
Additional student docent tours will be held each Wednesday at 4 p.m.