The number one killer of Americans: heart disease
Did you know that the number one killer of Americans is heart disease?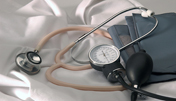 If you had asked people several years ago to name the number-one cause of death of American men and women, the majority would have said cancer. Most people were not aware that heart disease was, and continues to be, the number-one killer of Americans. Furthermore, there was an assumption that heart disease affected only men. It was not until the past 10 to 15 years that enough data was accrued to show conclusively that the disease affects both men and women, says Gary Balady, a School of Medicine professor of medicine and director of preventive cardiology and codirector of the noninvasive cardiac labs at Boston Medical Center. Without proper awareness of the disease and its risks, he says, Americans are not equipped to take proper precautions.
According to the American Heart Association's 2006 report on heart disease and stroke statistics, cardiovascular disease, the umbrella term for heart disease and stroke, has been the number-one killer in the United States every year except 1918. The report goes on to state that cardiovascular disease claims more lives each year than the next four leading causes of death combined — cancer, chronic lower respiratory diseases, accidents, and diabetes mellitus.
"The data has been out there for years," says Balady. "It is just that the American Heart Association (AHA) was not doing as good a job as the American Cancer Society of getting the message of their disease out."
Approximately three years ago, Balady says, the AHA rolled out a major advertising campaign. Initiatives such as National Wear Red Day, which is February 3, and more information in the media have helped bring the disease to the attention of the public. "In order for us to reduce the rates of heart disease and stroke over the ensuing years, we first need to increase overall awareness, so that people know that this is an important issue," says Balady, a member of the board of directors of the AHA's northeast branch. "When they are aware, they are more likely to take preventive measures."
It appears that the campaign is working. In a 2004 survey conducted by AHA, 57 percent of American women surveyed knew that heart disease was the leading killer of women, up from 34 percent in 2000 and 30 percent in 1997. But in spite of increased awareness, most women do not make the connection between risk factors for heart disease and their own personal risk. According to the National Heart, Lung, and Blood Institute, only 20 percent believe that heart disease is the greatest health threat facing women today.
"We have noticed that the rate of the decline in heart disease and stroke, although continuing to decline in men, is not declining as much in women and not at a fast enough rate to benefit society in the future," says Balady. "As we are becoming an older nation where people are living longer, more heart disease is going to accrue; it is declining, but not rapidly enough."
Balady links the plateau in decline to the sedentary lifestyle of many Americans, which leads to health problems such as obesity — a risk for heart disease. "We have new agents to take care of patients with high cholesterol and new ways to take care of people who have had a heart attack, but a lot of this is compounded by people becoming more obese and more sedentary and getting more diabetes," he says. "I think had we not had the obesity factor, the rate of decline would probably be faster than it is."
Balady will hold a question and answer session about coronary heart disease from noon to 1 p.m. on Thursday, February 9 at the BU Occupational Health Reception Area at the Commonwealth Medical Group Building, 930 Commonwealth Avenue (entrance on Pleasant Street). To register, email buohc@bu.edu.