Nobel laureate and founder of Kenya's Green Belt Movement to visit BU
Wangari Maathai, human rights and environmental activist, speaks tomorrow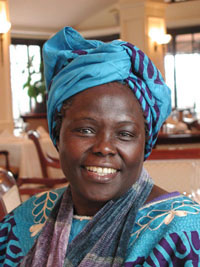 Three decades ago, when tea and coffee plantations were sprouting up all over Kenya, the promise of prosperity was welcome. But with that promise came deforestation and erosion. Wangari Maathai, then an associate professor in the University of Nairobi's veterinary anatomy department, noticed that the rivers were turning brown during rainy season. At a National Council of Women meeting in 1976, inhabitants of rural areas told her that they could no longer find drinking water and firewood.
Maathai responded by helping her countrywomen plant young trees, and the Green Belt Movement (GBM) was born. Since then, the organization has planted more than 30 million trees on farms and other properties. Maathai, who in 2004 became the first woman in Africa to be awarded the Nobel Peace Prize, for her work in environmental conservation and human rights and democracy, will speak at BU on Wednesday, March 22, at 6 p.m. at the Metcalf Trustee Center, One Sherborn St. The event is by invitation only.
Maathai established GBM as a grassroots, nongovernmental organization focused on environmental conservation and on community development. Its mission is to create a society of people who consciously work for continued improvement of their environment and a greener, cleaner Kenya. Maathai argues that to prevent flood and famine, Kenya must leave at least 10 percent of its land mass forested.
While stemming environmental degradation has been GBM's focal activity, its programs have expanded to include projects in civic education, advocacy, food security, and eco-safaris. The movement has helped women improve their environment, their communities, and their quality of life. 
"Boston University is honored to host Dr. Maathai," says Provost David Campbell. "Her efforts to bring environmental awareness and change to the people of Kenya are a testament to how one voice can unite millions, and her message of preservation and conflict resolution can educate us all."
Through her leadership in solving local challenges, Maathai has become a major political figure in Kenya. She has addressed the United Nations on several occasions, and in 1997 she spoke on behalf of women at special sessions of the U.N. General Assembly for the five-year review of the 1992 Earth Summit. In 2002, with the reemergence of multiparty democracy, she was elected to Kenya's parliament and the following year was appointed assistant minister of environment, natural resources, and wildlife by President Mwai Kibaki.
The Nobel committee recognized Matthai for her contributions to sustainable development and democracy and her commitment to drawing attention to political oppression nationally and internationally. "Peace on earth depends on our ability to secure our living environment," reads her citation. "Maathai stands at the front of the fight to promote ecologically viable social, economic, and cultural development in Kenya and in Africa. She has taken a holistic approach to sustainable development that embraces democracy, human rights, and women's rights in particular. She thinks globally and acts locally."
Maathai earned a B.S. in biology from Mount St. Scholastica College in Kansas and an M.S. in biological sciences from the University of Pittsburgh and pursued doctoral studies in Germany before obtaining her Ph.D. in anatomy from the University of Nairobi. She was active in Kenya's National Council of Women of Kenya from 1976 to 1987 and served as its chairperson from 1981 to 1987.