New WBUR chief Paul LaCamera on jumping from TV to radio, covering Boston
Broadcast news vet aims to shore up station's resources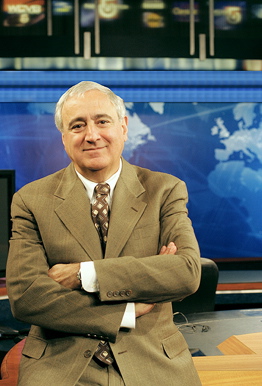 This story was published on BU Today on October 4, 2005.
Paul La Camera, a 33-year veteran of Boston's WCVB-TV, began a new job on October 3: general manager of WBUR-FM, the award-winning National Public Radio station owned and operated by BU. Selected after a five-month search, the native of Winthrop, Mass., took over from Peter Fiedler, a BU vice president, who has served as interim GM since last October.
La Camera (COM'66, MET'74) had been with WCVB since the station went on the air in 1972 and was station manager from 1988 to 1994, when he was appointed vice president and general manager. He was named president of WCVB in 1997, and had planned to retire at the end of the year.
Prior to joining WCVB, La Camera was director of communications for the Greater Boston Chamber of Commerce. He had also been a reporter for the Boston Record American and Sunday Advertiser newspaper. He earned his bachelor's degree from the College of the Holy Cross and master's degrees from BU (journalism and urban affairs) and Boston College (business administration).
He spoke with BU Today recently about his new position.
You recently stepped down as general manager of WCVB-TV, but initially you had planned to stay on as a consultant and retain the title of president until the end of the year. What drew you to WBUR-FM?
I had the privilege of being associated with one of the preeminent local commercial television stations in the country for more than three decades, and the opportunity to make the transition from that rarified arena to WBUR was irresistible. At this point in my career, I saw this position as a chance to make a contribution to another outstanding organization in broadcast journalism.
How do you think your experience at WCVB-TV will serve you at your new job?
National Public Radio and local commercial television news are different, but they're still rooted, particularly for an institution such as WCVB, in quality broadcast journalism. So I certainly have that comfort level in this role. I'm a lifelong Bostonian, with deep roots in — and knowledge of — this community, and I hope in turn that will prove to be of value to WBUR. I know that I must have a steep learning curve here, and that's part of the excitement.
You must be pleased that WBUR's Here and Now, which was broadcast nationally over 40 stations, was recently picked up by Public Radio International and is now available to 734 stations.
I'm a tremendous fan of the show's host, Robin Young. I remember when she hosted Evening Magazine at WBZ-TV, which was a longtime competitor with Chronicle at WCVB-TV. I think she brings an intelligence to her subject matter that is unequalled. She's so comfortable in that interview format. She's a quintessential pro at it.
What's your first order of business at the station?
I'm hoping to be able to make some contributions on the development side, shoring up the resources of the station, and hopefully grow them so we can begin some new initiatives. Peter Fiedler has done a masterful job of stabilizing the station over the past year, and I want to continue that work. Initially, there's no need for me to get heavily involved in the product. It's an excellent product to begin with, with coverage that is local, national, and international in scope.