Men's hockey recruiting class emphasizes strength, speed
Three freshmen drafted by NHL teams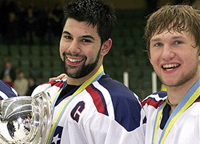 Last March, a dejected bunch of men's hockey Terriers skated off the ice in the NCAA quarterfinals after being shut out, 5-0, by Boston College. Six productive seniors had played their final game in a BU uniform, and this summer Coach Jack Parker and his staff recruited five freshmen to help fill the void. Three of the new players were selected in the National Hockey League professional draft in June: defensemen Brian Strait (CAS'10) and Eric Gryba (CAS'10) and goaltender Brett Bennett (CAS'10). The three will play their college careers at BU before going professional.
Strait was drafted second in the third round by the Pittsburgh Penguins. He played on the U.S. National Under-18 Team with fellow freshmen Bennett and Luke Popko (SMG'10), and last April he captained Team USA to the gold medal at the International Ice Hockey Federation World Under-18 Championship. Rounding out the freshman class is forward Zach Cohen (CAS'10).
Parker (SMG'68, Hon.'97) says it was no accident that the two defensemen BU recruited are great two-way players. "Strait is probably known more for being a defensive defenseman because of his skills and the fact that he's such a good skater, but at the same time he's going to help us out at the blue line offensively," he says. "The same is true for Gryba. He's a very physical defenseman — a big, tough, strong kid. But he can also shoot, and he will get some ice time on the power play as well."
A native of Waltham, Mass., Strait played two years for the Northfield Mt. Herman School in Gill, Mass. Growing up, he was a rabid fan of the Boston Bruins and the BU Terriers. "I've been going to BU hockey games with my dad since I was seven years old," he says. "This is something I always wanted."
Gryba, from Saskatoon, Saskatchewan, played with the Green Bay Gamblers organization in the United States Hockey League USHL), an elite under-20 amateur league, and was drafted by the NHL's Ottawa Senators.
Bennett was ranked sixth best amateur goaltender in North America by the NHL Central Scouting Service and was picked by the Phoenix Coyotes in the league's draft. At April's World Under-18 Championship tournament, the Williamsville, N.Y., native posted a pair of victories, including a shutout, and had a .969 save percentage. "We graduated a senior goalie last year, and we've got a senior and a junior goalie this year, so we had to make sure that we had a really capable goaltender in the freshman class," says Parker. "We know we've done that by recruiting Bennett. He's going to be a solid, if not spectacular, goaltender."
Popko, a forward who hails from Skillman, N.J., is another proficient two-way player. "Popko has made his mark as a very smart player who can kill a penalty," Parker says, "and he wins face-offs."
Cohen, like Gryba, stands six-feet-three-inches and is a physical player. The forward from Schaumburg, Ill., played with the USHL's Tri-City Storm and earned a spot in the league's All-Star game. While Parker didn't seek out solely the largest recruits, he knows that size and strength do matter in college hockey. "Cohen is a big forward who can get around the rink quickly," he says, "and certainly with Strait and Gryba we have two physically strong defensemen."
It remains to be seen if this year's upperclassmen and sophomores can score as many goals as last year's graduating seniors, but Parker likes what he saw of the rookie forwards during the 2005–2006 season. "We lost a lot of offense when that whole first line graduated," he says. Forwards Brad Zancanaro (MET'06), John Laliberte (SHA'06), and David Van der Gulik (CAS'06) "were a big part of our offense, but we expect a lot of returning players to step up, and the freshmen will also get to prove themselves."
The Terriers' first exhibition game is Saturday, October 7, against the University of New Brunswick at Agganis Arena, with face-off at 7 p.m. For ticket information, click here.
For video footage of 2005-2006 hockey highlights, click here.