Men's hockey ranked fourth in the nation
Counting on sophomore sensations to top last year's record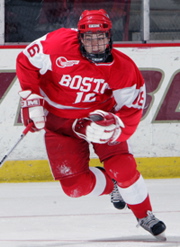 The men's hockey Terriers are currently ranked fourth in the country, but competing in April's Frozen Four national semifinals — when a number-four ranking really matters — has eluded the team since 1997. BU had its chance last spring, against Boston College, only to be steamrolled by the Eagles, 5-0.
Some offensive firepower early this season, however, along with the expected strengths in defense and in goal, has inspired hopes that the program can return to its glory days of a decade ago, when BU played in the Frozen Four from 1993 to 1997, and won the national championship in 1995.
The 2-0-1 Terriers take the ice again tonight, October 27, at 7 p.m. against UMass-Lowell at Agganis Arena. Before the season started, the team's ability to put the puck in the net early and often was in question, especially since the whole first line had graduated. But replacing the scoring punch of ex-Terrier forwards Brad Zancanaro (MET'06), John Laliberte (SHA'06), and David Van der Gulik (CAS'06) is a trio of sophomores — as well as a line of upperclassmen — who are determined to build the same kind of momentum that carried BU to the Beanpot championship and the Hockey East title last year.
"We lost six productive seniors," says coach Jack Parker. "But we have outstanding returning players and a fine recruiting class. We expect our experienced players, and some of our freshmen, to contribute right off the bat."
Last year's freshmen did just that. The "rookie line" of Brandon Yip (CAS'09), Jason Lawrence (CAS'09), and Chris Higgins (CAS'09), now sophomore sensations, picked up right where it left off, scoring three times in BU's 4-4 tie with RPI on October 14. Yip netted the Terriers' first goal of the season, with an assist by Higgins. Parker never tires of singing the praises of Yip, who adjusted to college hockey in supreme fashion with 9 goals and 22 assists. "Brandon Yip had a solid season last year," says Parker (SMG'68, Hon.'97). "His offensive production was great, and he was named Hockey East Rookie of the Year."
Higgins, not to be outdone, scored two goals in the season-opener against RPI, including the game-tying tally. The Lynnfield, Mass., native had 8 goals and 13 assists last year — 3 of the goals at the expense of Nebraska-Omaha, for the fastest hat trick (5:31) in NCAA regional tournament history in BU's 9-2 victory.
On October 20, it was prime time for the "big line" as Pete MacArthur (SED'08) scored twice and Ken Roche (MET '07) came up with the game-winner in BU's 4-3 victory over Northeastern. The following night, MacArthur put two more in the net and added an assist in a 4-1 win that slammed Merrimack and saw Roche score once again. "Roche is obviously a key for us this year," Parker says. "He had such a great second half for us last season, and a lot of that success had to do with his two line-mates." Rounding out the line is Bryan Ewing (MET '08), who scored 16 times last season, just behind Roche (17) for the team lead in goals. "The MacArthur-Ewing-Roche line is one of the main reasons we led the league in scoring," says Parker, "which is the first time in quite a while we've done that."
Parker also expects significant contributions from Steve Smolinsky (CAS'09), who played only 12 games last year before being hampered by injury. "We think Smolinsky will make a big jump for us as a sophomore," Parker says. "He is quick, and his speed is definitely needed."
 
And then there's goaltender John Curry (CAS'07) — the man everyone depends on when opponents penetrate the Terrier defense. Curry last season posted a 24-8-4 record, with a goals-against average of 2.24 and a .918 save percentage, and was voted to the Hockey East All-Star First Team.
"There is a lot of parity in Hockey East this year, so it's going to be a real challenge to come out on top," Parker says. Indeed, five Hockey East teams rank in the top 20, with Maine first and Boston College just behind BU at number five. At present, the Terriers are undefeated and atop the conference standings — a place they hope to occupy in the spring if all goes according to plan. "We've replaced departing players with players who have a lot of talent," says Parker, "but it remains to be seen if we did a good job replacing our graduates' experience."