Kate Speach wins Student Employee of the Year award
Lucky for Warren Towers residents, Kate Speach (COM'06) is in the house.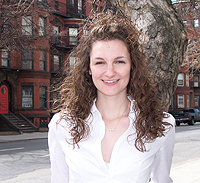 Fortunately for residents of Warren Towers, Kate Speach is in the house. Speach (COM'06) was recently named a Student Employee of the Year by the University for her work with fellow students in the Warren Towers Office of Residence Life.
Speach's coordinator, Jennell McKinney, nominated her for the award. "She gives the extra effort for the students, and she's always there to help them," says McKinney. Speech, who has worked at Warren Towers for over a year, answers student questions about University policies, room selection, and other daily concerns, and often volunteers personal time to help out, McKinney says.
Speach attributes her knowledge of University life and policy to a combination of experience gained from this job and a summer job working for the Office of Housing. "I know both sides," she says. "I know the University can seem really big and confusing, [but] when you have experience in multiple departments, it's easier to bring things together. And, I just really enjoy helping people understand what I didn't understand," says Speach.
McKinney agrees that Speach's experience with the Office of Housing helps the Office of Residence Life field student questions about room selection and the lottery system. "She can answer questions we don't even know about housing," says McKinney.