Ideas and people behind the Coulter Awards
A microfluidic laboratory analyzes pathogen DNA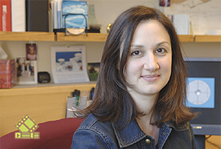 Part three of a five-part series
In November, the Coulter Foundation awarded the College of Engineering department of biomedical engineering a Translational Partnership Award of $2.9 million over five years to help biomedical technologies move from the lab bench to the patient bedside. Department faculty who found a clinical partner for their research were eligible to apply for the grant, and this year 18 teams started the process by submitting preproposals.
In this five-part series, BU Today looks at the projects selected for this year's Coulter awards. Today we examine a credit-card sized "microfluidic" laboratory that can isolate and analyze pathogen DNA. The device is being developed by Catherine Klapperich, an ENG assistant professor of biomedical engineering and manufacturing engineering, and Satish Singh, a School of Medicine assistant professor of medicine and a gastroenterologist with the VA Boston Healthcare System.
The goal of the project is to create a portable, disposable device that can be taken to remote parts of the world, far from advanced labs and hospitals, to test for any number of diseases. The channels in this device would be so small that they could break open cells from a specimen, such as a cheek swab, allowing DNA to be isolated and analyzed.
Visit BU Today tomorrow to read "New molecules that cushion joints." Mark Grinstaff of ENG and Ilya Voloshin of MED are working on "polysacharride surrogates," engineered molecules that can be injected into the joints of people with osteoarthritis.

Click here to read yesterday's installment, "Shining a new light on cancer." Irving Bigio of ENG and Satish Singh of MED are using a fiber-optic probe to guide the diagnosis of cancer.

Click here to read Monday's installment, "Glucose control without guesswork." Ed Damiano of ENG and his wife, Toby Milgrome, a pediatrician at Worcester's Fallon Clinic, create a wearable, automated glucose control system for type 1 diabetes.

Click here to read a Q&A with Coulter project director Arthur Rosenthal.