Ideas and people behind the Coulter Awards
Using light to detect cancer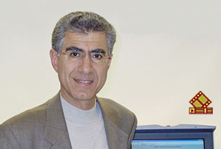 Part two of a five-part series
In November, the Coulter Foundation awarded the College of Engineering department of biomedical engineering a Translational Partnership Award of $2.9 million over five years to help biomedical technologies move from the lab bench to the patient bedside. Department faculty who found a clinical partner for their research were eligible to apply for the grant, and this year 18 teams started the process by submitting preproposals.
In this five-part series, BU Today looks at the projects selected for this year's Coulter awards. Today, in part two, a slide show illustrates the efforts of Irving Bigio, an ENG professor of biomedical engineering and electrical and computer engineering, and Satish Singh, a School of Medicine assistant professor of medicine and a gastroenterologist with the VA Boston Healthcare System, to use a fiber-optic probe to guide the diagnosis and treatment of cancer.
Because cancer changes the structure of cells, light scattered by healthy tissue emits a different spectrum than light scattered by malignant tissue.  Bigio and Singh are working on integrating this optical biopsy into the forceps and snare devices used to snip tissue for standard biopsies that are currently done in a hit or miss fashion.
Visit BU Today tomorrow to read "Tiny devices, big diagnoses." Catherine Klapperich of ENG and Satish Singh of MED develop a credit-card-sized diagnostic device that can isolate and analyze disease DNA.

Click here to read Monday's installment, "Glucose control without guesswork."  Ed Damiano of ENG and his wife, Toby Milgrome, a pediatrician at Worcester's Fallon Clinic, create a wearable, automated glucose control system for type 1 diabetes.

Click here to read a Q&A with Coulter Project Director, Arthur Rosenthal.