Ha Jin receives an American honor
Creative writing professor elected to Academy of Arts and Sciences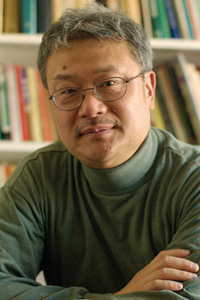 Two decades into his journey as an American writer, Xuefei Jin — the College of Arts and Sciences professor of creative writing better known by his pen name, Ha Jin — has been elected to the American Academy of Arts and Sciences. The 2006 class, which will be inducted in October, includes former U.S. President Bill Clinton, Supreme Court Chief Justice John Roberts, and director Martin Scorsese.
Jin's most recent novel, 2005's War Trash, was a finalist for the Pulitzer Prize and earned the author his second PEN/Faulkner Award — a feat duplicated by only two other novelists, Philip Roth and John Edgar Wideman. To many of his colleagues and students, however, the real achievement has been his dual mastery of American literature and the English language: Jin (GRS'94) did not begin writing in English until he became a student in the GRS Creative Writing Program, barely 15 years ago.
"We at Creative Writing were proud of Xuefei even before he left our workshops, and our admiration for him and our appreciation for what he brings to our students as well as to literature has only grown with each passing year," says Leslie Epstein, director of the Creative Writing Program. "We are glad that those in the academy have also recognized this great writer. I am sure they will enjoy their association with him almost as much as we have, and continue to do."
Born in China, Jin joined the People's Liberation Army at age 14, and served for five years before beginning his academic career. He earned a master's degree in American literature at Shandong University and a doctorate in modern American poetry from Brandeis University. The Tiananmen Square riots of 1989 disrupted his plans to return to China, and after deciding to remain in the United States, he began his effort to write fiction in English. With Epstein's permission, he audited BU's program for a year before enrolling. His first collection of short stories, Ocean of Words, was completed while he was a student at the University.
Waiting, which in 2000 gained Ha Jin his first PEN/Faulkner and also won the National Book Award, and 2002's The Crazed, both focus on major events in recent Chinese history — the Cultural Revolution of the 1960s and the Tiananmen Square protests. Ha Jin said last year that he is planning a novel that is set entirely in the United States.
"I do want to be an American writer," he said. "And that means I have to write about America."
An international learned society founded in 1780, the American Academy of Arts and Sciences consists of the world's leading scholars, artists, scientists, businesspeople, and public leaders. Current membership is 4,000 American fellows and 600 foreign honorary members.