Elizabeth Flagg is honored for her work with families of the National Guard
The Massachusetts National Guard honors ENG employee Elizabeth Flagg for her work in "Family Readiness."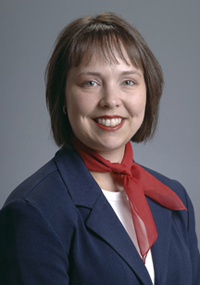 Graduate Programs Coordinator in the Department of Manufacturing Engineering Elizabeth Flagg takes the time to volunteer for the Family Readiness Group of the 110th Maintenance Company of the Massachusetts National Guard where her husband SFC Allen Flagg is a member. Elizabeth Flagg recently received recognition for her efforts in the form of a Massachusetts National Guard Civilian of the Year Award.
Flagg is the co-chair and treasurer of the 110th Maintenance Company's Family Readiness Group, a volunteer effort to take care of families of soldiers in the unit. Flagg has organized and conducted many fundraisers to pay for activities including spaghetti suppers, Christmas parties, and "Family Days," according to Captain Arvid Hill, who nominated her for the award. "She has brought great enthusiasm to the FRG and has been the lead on making our family events so successful," he said.
Flagg says it is important to have a strong Family Readiness Group established before a unit is deployed. Since the 110th Maintenance Company is currently home, Flagg spends her time organizing events for the families, sending out newsletters and postcards, and maintaining a website for the group, the very first for a Family Readiness Unit in the State.
"It's a honor, and I know it makes my husband feel really proud," said Flagg, speaking of her award. "It's very prestigious."