BU's Martin Luther King, Jr. collection: a trove for scholars
Exhibition provides a glimpse into Gotlieb Center's most used archive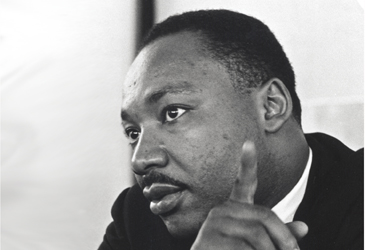 "Give us the ballot and we will transform the salient misdeeds of bloodthirsty mobs into the calculated good deeds of orderly citizens."
These words are from Martin Luther King, Jr.'s first national address. Several pages from a handwritten draft of the 1957 speech in Washington, D.C. — heavily corrected by pen and pencil in his own hand — are part of an exhibition on display in the Martin Luther King, Jr., Reading Room on the third floor of Mugar Memorial Library.
King (GRS'55, Hon.'59), who had earned a doctorate in systematic theology at BU two years earlier, delivered the speech in front of the Lincoln Memorial at the Prayer Pilgrimage for Freedom. The draft of the address — in which he exhorts the president and members of Congress to ensure voting rights for African-Americans — is one of the 83,000 documents that make up the University's Martin Luther King, Jr., collection, which King gave to BU in 1964 and which is housed at the Howard Gotlieb Archival Research Center (HGARC).
The exhibition, titled Martin Luther King Jr.: Stride Toward Freedom, explores King's rise to national prominence and includes correspondence from Rosa Parks, Medgar Evers, Malcolm X, and Rev. Ralph Abernathy. It provides an interesting glimpse into the King collection.
The entire collection consists primarily of office files from 1955 through 1961, but it also contains letters and King's student notes, papers, and exams, some dated as early as 1949. The majority of student papers are from BU, but a few are from Crozer Theological Seminary, from which he graduated in 1951 at the top of his class.
"The office files include lectures, correspondence, telephone call records, general correspondence, and clipping files," says Perry Barton, HGARC exhibitions coordinator. "There is much material relating to Dr. King's involvement with the Southern Christian Leadership Conference and the Montgomery Improvement Association."
The collection, which draws several scholars a week, includes drafts and printed versions of other King speeches, sermons, articles, his doctoral dissertation, drafts of his book Stride Toward Freedom, documents related to his 1959 trip to India, and numerous photos and awards.
The exhibition is free and open to the public and can be viewed Monday through Friday, from 9 a.m. to 5 p.m. Other items in the Martin Luther King, Jr., collection are available for research by appointment. For more information, call 617-353-3696 or visit www.bu.edu/archives/about/contact.html.