BU People: Michelle Duffy, director of academic services for CAS
Innovative administrator kicks off a busy summer schedule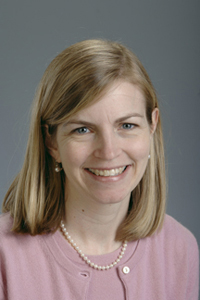 You might think that the job of a university employee slows down a bit over the summer, but nothing could be further from the truth for Michelle Duffy (SED'96), the director of academic services for the College of Arts and Sciences, who in May was awarded one of three John S. Perkins Distinguished Service Awards.
"This is actually one of our busiest times," says Duffy, who has worked at BU for 13 years and oversees the CAS academic advising center. The approaching summer means orientation and class registration for thousands of incoming freshmen. Duffy and her staff field scores of phone and e-mail questions from anxious students and parents about such things as course requirements and Advanced Placement credits.  
Her office also coordinates the faculty advising that accompanies orientation and trains 17 student advisors, rising juniors and seniors, who introduce the new students to BU and prepare them for that first meeting with their faculty advisor.
In addition, the conclusion of the spring semester means another round of academic standards reviews — which involves making sure that every CAS student is maintaining at least a 2.0 grade point average and has completed a minimum of six, and preferably eight, courses during the academic year. Students who don't make the cut, which Duffy estimates at about 600 a semester, are given a warning, then probation, and eventually, if they can't get back on track, are expelled.
"That's my least favorite part of the job," says Duffy, who started working in academic services in 1999 as an academic counselor and has since streamlined the academic standards reviews. "We worked to make it more consistent and clear-cut, so that it's clear what the expectations are," she says. "Before, students were sometimes allowed to prolong their misery."
Instead, Duffy pushes students who are in academic trouble to begin an "academic success plan," a process that starts with a mandatory meeting with an academic counselor and can include specific work on study skills, visits to the Educational Resource Center, or whatever the student and counselor believe is necessary to turn things around.
These sorts of initiatives are part of why the Faculty Council awarded Duffy one of the John S. Perkins Distinguished Service Awards, which are given annually to nonfaculty staff members. According to one nominating letter for the award, Duffy is a "responsibility sponge," who never shrinks from taking on new tasks and projects. Indeed, in addition to running the academic advising center, she oversees the competition for the University's Ada Draper Scholarship, which gives money to a select number of graduating women to study or travel abroad after graduation. 
Duffy is also the staff support person for Boston University's Phi Beta Kappa chapter. The chapter's secretary, Susan Jackson, a CAS senior associate dean and professor of modern foreign languages, calls Duffy "tremendously calm and unflappable — one of those rare people who works with systems and individual human beings equally well."
Duffy admits that getting students individual attention at a place as big as Boston University is one of the main challenges of her office. She and her staff are working on developing new programs that could identify students who may be in academic trouble "earlier in the game," to increase the chance that they can be successfully helped.
"We get very jealous of the smaller colleges who are able to track their students better and give them more one-on-one attention," she says. "We're constantly trying to look at our services and resources to see how we can give CAS a much more community feel, so that students feel that they're less of a number and more of an individual."