Bob Zelnick reacts to Jill Carroll's release
COM's Bob Zelnick offers an inside view of the Middle East on news of Jill Carroll's release.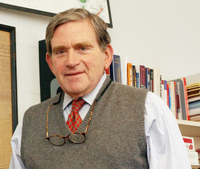 Professor of journalism Bob Zelnick, the BU Journalism Department chairman, a Hoover Institution research fellow, former ABC News correspondent, and author of the forthcoming book After Gaza, had this reaction to yesterday's news that hostage Jill Carroll was released in Iraq:
"I think Jill Carroll's release was the product of two principal factors. First, the swift reaction by the international community, including Islamic clerics and political leaders to her kidnapping, a reaction calculated to persuade the kidnappers that their cause would be harmed if they carried out the threatened execution. 
 
"Second, the network of Shiite death squads and rough militia units which have kidnapped and murdered scores of Sunni Muslims during the period of Ms. Carroll's detention appears to have evoked among Suuni terrorists a late-blooming hatred of political murder and appreciation for the rule of law. 
 
"The lengthier her detention the more this changed political landscape operated on the terrorists holding Ms. Carroll."