Big Weekend for BU Hockey and Hoops
Men's and women's Terrier teams seek early season victories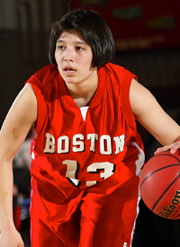 The Terriers may have to pass on leftover turkey this year, because unlike most of the BU community, who will be relaxing after Thanksgiving, the men's and women's hockey and basketball players have a busy weekend ahead. Fueled by holiday meals, they will take to the ice and the hardwood in early season games.
On Saturday, November 25, men's hockey will host Yale at 7 p.m. at Agganis Arena, and women's hockey will travel to Union College for a 2 p.m. game. The men's basketball Terriers will play at Manhattan College at 7 p.m., and their women counterparts will host Canisius on Sunday, November 26, at 1 p.m. in the Case Gym. In addition, the women's hockey team will have little time for repose — the Terriers have a rematch with Union on Sunday at 2 p.m.
Men's hockey
The men's hockey Terriers (4-2-4) last played Yale two years ago and gave the Bulldogs a 7-2 whupping. With a 6-1 record, however, Yale has defeated some impressive teams this year, including New Hampshire, which is ranked eighth in the nation. The Bulldogs also beat Holy Cross, a team that made it to the NCAA semifinals last season, and took a bite out of Colgate, picked to finish first in the ECAC Hockey League in a preseason coaches poll.
BU is ranked 10th in the nation, but is trying to break out of a scoring drought. "We seem to be having a problem putting the puck in the net," says coach Jack Parker (SMG'68, Hon.'97). The Terriers managed to end a five-game winless streak on November 17 — barely — with a 1-0 victory over Providence. But BU might have to score more than a single goal against a Yale team that's off to its best start in nine years.

Women's hockey
Last year, in their inaugural season as a varsity team, the Terriers dominated Union in back-to-back home games, 4-1 and 6-2, marking their first victories in Division I. This year BU was picked to finish third in Hockey East and currently sports a 7-4-1 record. Union is 4-6-0, but the Terriers might have a tougher time this weekend because the Dutchwomen currently are 2-0 at home.
Last year the Terriers were a miserable 2-11-2 on the road, and although they began the season with two wins at Robert Morris University, they're still a mediocre 3-3 outside of Walter Brown Arena. "Last season we definitely struggled on the road," says captain Cara Hendry (CAS'07). "I don't know what it was — we just got off on the wrong foot, and it never really got better for us. Playing in Walter Brown just gives us an added sense of confidence. It's a familiar arena, and we don't have to deal with the travel hassles. It was nice to get two road wins right away this season though. Hopefully, it's a sign of things to come."
Men's basketball
This is the youngest Terrier team to take the court in years, with six freshmen, five sophomores, and two seniors, which is undoubtedly why it was picked to finish fifth in America East — the worst preseason ranking in five years. At present BU is 1-3, with an encouraging 78-74 win over Harvard November 14. Although the Terriers were clobbered by George Washington, 70-57, in the season opener, rookie Carlos Strong (CGS'08) was a bright spot with 19 points. Strong "is a solid backcourt addition who will contribute positive things to our team," says coach Dennis Wolff.
Manhattan has a 2-1 record, including a 79-77 overtime win over Hofstra. The Jaspers were 20-11 last year and won two games in the postseason NIT tournament in March before losing at Old Dominion.
Women's basketball
Tabbed third in the preseason America East coaches' poll, the Terriers are 3-0 and coming off their fourth straight season of making it to the conference championship game. BU is led by Katie Meinhardt (SMG'07) and Cheri Raffo (SAR'08), who both scored in double digits — as did Kristi Dini (CGS'07) — in the Terriers' 68-66 victory over the University of Missouri–Kansas City on November 18.
Meinhardt scored 14 points and had a team-high four assists against the Kangaroos. Raffo poured in 17 points in a game that saw BU down by as many as 10 points, but the Terriers took the lead for good with 6:24 remaining.
Canisius (2-1) was 21-9 last year and earned its first-ever NCAA tournament bid by winning the Metro Atlantic Athletic Conference.

Brian Fitzgerald can be reached at bfitzger@bu.edu.