A chat with a Redstone Film Festival winner
The editor of We're Going to the Zoo talks about making the film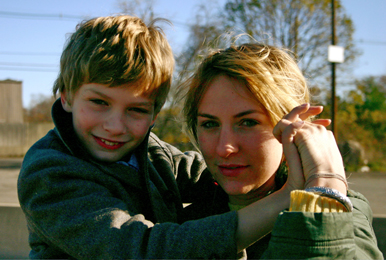 It's a film made for people who wish they could pick up hitchhikers. At least, that's the dedication assigned by four College of Communication seniors to their 15-minute piece We're Going to the Zoo, which took first place honors at Wednesday night's 2006 Redstone Film Festival.
The film, by Brett Jutkiewicz, Sam Lisenco, Josh Safdie, and Dan Samiljan, explores the interaction of a young woman and her 10-year-old brother with an endearingly goofy hitchhiker (played by Safdie) as the three drive to the zoo. BU Today talked about the film with coeditor and sound technician Samiljan.
BU Today: How did the four of you decide to collaborate on this project?
Samiljan: It was an inside joke that just stuck. We made the movie last semester in Film Production II, but we all met in Film Production I. At the end of that class, we already knew that we wanted to work together in Film Production II, and we joked about wanting to make a film about the zoo.
How did the idea turn into a film?
We each came up with different ideas. We don't write things down — whatever stuck in our heads we knew was a good idea. The bad ideas get lost along the way. Josh wrote a script, but we only told the actors about the script; we never showed it to them because we wanted it to be improvised so it would feel more real.
Were there any specific influences that you embraced as a group?
The four of us took a class last semester on Polish cinema, and we were really influenced by watching Roman Polanski. It's so gritty and so real."
How do you think the audience responded?
They laughed at the right spots and at some of the wrong spots, too, which is fine with me. We wanted to make sure that they really connected with the characters. A lot of people came up to us and said, 'That movie had a lot of heart,' and that was the best compliment. It's a nice story. It's just very tender, I think.
What were the biggest challenges in making the film?
Time is always a big thing, especially since none of it is shot at night. We would get up at 5:30 and film by 6:30. Everyone was tired, but you've just got to do it. At one point, Giacomo, who played the brother, quit the film, and we were like, 'Oh my God, what are we going to do?' So we played a game of tag with him, and he was back in.
What advice do you have for aspiring young filmmakers?
I've always been asking people that; I've never been asked that. I'd say, "You do what you like. Go with your gut feeling. Don't worry about making it a little too weird or about what people are going to think. Just go with what you enjoy and people will see how genuine you are, and they'll appreciate that."
What would you be doing if you weren't making movies?
I'd be an astronaut. Or I'd be taking a nap.
The Redstone Film Festival second place winner is The Bowlers, by Kevin McCarthy (COM'05), and in a tie for third place are In the Tradition of My Family, by Todd Davis (COM'05), and A Kind of Screaming, by Kyle Graffam.
Those who missed the Redstone Film Festival can catch another screening of We're Going to the Zoo, along with other student films, on Friday, February 17, from 8 to 10 p.m. in Room 206 of the Photonics Center. A suggested donation of $5 benefits Cambridge's Brattle Theatre.