WBUR-FM's Virginia Prescott: using the airwaves to promote peace in Sierra Leone
Joins effort to launch an independent radio network in this war-torn country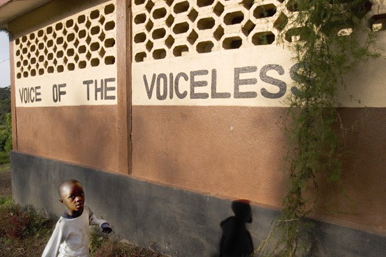 As Sierra Leone strives to recover from a 12-year civil war, Virginia Prescott is exploring the power of radio to help sustain peace in the West African nation.
Prescott, arts and culture editor for the show Here and Now on WBUR-FM, the award-winning National Public Radio station owned and operated by BU, spent three weeks in November in Sierra Leone consulting with radio professionals interested in starting an independent radio network.
Prescott traveled there on behalf of the nongovernmental organizations Search for Common Ground (SFCG) and Developing Radio Partners (DRP) to help establish what volunteers hope will be the country's first radio network that isn't state controlled. It's a momentous undertaking in a country that was devastated by a brutal war pitting the rebel Revolutionary United Front against government forces. The conflict, from 1991 to 2002, fueled by the illicit diamond trade, killed tens of thousands of people and displaced half of Sierra Leone's 4.5 million population. The use of child soldiers and the widespread mutilations there in more than a decade of terror horrified the world.
But Prescott says there is "hope for a brighter future in a place that a few years ago was absolutely devoid of hope." A national election was held in 2002, and continued stability may prompt withdrawal of United Nations peacekeepers by the end of this year. And thanks to SFCG's effort to create an independent public radio service, the country has the potential for an informed and empowered citizenry. She says the seeds of freedom have already been planted with public affairs shows and other programming that promotes civil dialogue and postwar reconciliation.
Prescott traveled to 15 stations across Sierra Leone, assessing their level of sustainability and capacity to participate in a public network. She worked specifically with the Talking Drum Studio, which broadcasts programs that promote peace and tolerance. With funding from a Fulbright-Hayes grant, she has done similar work in postconflict zones in the western African countries of Niger, Mali, Burkina Faso, and Senegal, as well as the former Yugoslavia.
"Over and over again I have seen the power of radio to make people feel part of a larger community — especially in a country such as Sierra Leone, where there is an 80 percent illiteracy rate in some parts," she says.
Prescott recalls the cries of encouragement she heard from listeners as she rode through the country in a vehicle marked with the Talking Drum Studio logo. "People were yelling, hurrahing us as we passed," she says. "By listening to radio, people are learning about rights-based citizenship."