VP Marvin Cook to retire after 30 years
One University and who knows how many jobs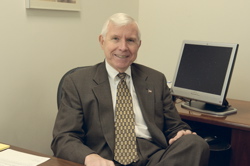 Marvin Cook, Boston University's departing vice president for planning, budgeting, and information, has a tongue-in-cheek summary of his three decades at the University: "I couldn't keep a job."
At various points in his career here, Cook has led the offices of analytical services, space planning, personnel, budget, and development; served as chief operating officer of the Goldman School of Dental Medicine; and been the compliance officer for enacting the Health Insurance Portability and Accountability Act at BU. He will retire from the University on December 31, exactly 30 years and 30 days after he began working here in 1975. "It's just time," he says. "It's been a fascinating ride."
While Cook's departure leaves a significant vacancy in the University's administration, President Robert A. Brown, Provost David Campbell, and Executive Vice President Joseph Mercurio have planned several organizational changes that will take effect on January 1.
William Hickey, who currently oversees the Office of the Budget and the Office of Institutional Research, will serve as senior associate vice president for those departments, reporting to Mercurio and assuming many of Cook's duties. Melanie Madaio-O'Brien will continue as the director of the Office of Institutional Research, which will be expanded to replace the Office of Analytical Services. Joseph Grossi will be executive director of the budget office and chairman of the tuition and fees advisory committee, taking on Cook's role in preparing and analyzing data regarding tuition and fee rate proposals.
Cook, who holds a doctorate in urban studies from Boston College, says BU's growth over the past 30 years has required his department to provide much more detailed financial data to the administration, and he is confident that the new appointments will keep pace with the University's continuing changes. "I think the direction of the department is going to be set by President Brown," he says. "He's a real gem to work with. He understands numbers, he knows higher education inside out, he knows where he wants to go, and he's going to make it happen."
Cook and his wife, Leah, plan to sell their home in Newton and move to Tiverton, R.I.