New track and cross-country director has a winning tradition
Robyne Johnson: her teams are built for speed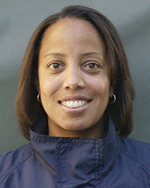 It wasn't entirely shocking when the BU women's cross-country team was selected in a preseason poll to win the October 29 America East Championship. After all, the Terriers have history on their side — 9 of the past 10 conference titles, to be precise.
And now they have Robyne Johnson. The coaching veteran and former All-American hurdler was named director of the University's men's and women's track and cross-country teams in September.
Johnson, who helped the University of California at Berkeley win 10 Pac-10 championships as an assistant coach, likes the women Terriers' chances this weekend when they defend their America East title at the University of Binghamton. She points to the team's second consecutive New England Championship crown, picked up on October 9, and says the runners seem to be peaking at just the right time.
Indeed, Johnson asserts that the women Terriers likely are saving their best showing in the battle for yet another conference title, especially because Christine Laasko (SED'08), who won conference Athlete of the Week honors for her performance at the New England Championships, "is looking even better going into the America East meet."
Johnson — like the Terriers — has a habit of winning conference championships. Aside from her collection of Pac-10 crowns, she also won three as an associate head coach at Rider University, along with a Big Ten championship when she was an assistant coach at Penn State.
As a runner at the University of Texas at Austin, Johnson was a key contributor to the Longhorns' national championship in outdoor track in 1983. She was named an All-American in the triple jump five times and was ranked seventh in the world in the event. She competed in the World Track Championships in 1991 and in the Olympic trials in 1988, 1992, 1996, and 2000.
She insists that she wasn't exactly born to run, although her father, Sylvester Johnson, has been an assistant track coach at Chabot College in Hayward, Calif., for the past 35 years. As a child, in fact, Johnson was a reluctant racer. "I didn't want to compete for the longest time," she says. But when she began entering — and winning — youth meets, she "caught the bug."
Johnson says that the BU men's cross-country team, which finished 12th at the New England Championships, is a work in progress, and should be faster next year, with a little help from a strong recruiting class.
But the women, who have turned the America East Championship into the "BU Invitational" for the past 10 years, are poised to win it all again. "Their coach, Bruce Lehane, did a fabulous job getting them prepared for the New England Championships," Johnson says. "Even though we won, we didn't run as fast as we wanted to. I think we're well-prepared for America East."