New swimming coach Bill Smyth on payoff in the pool
University of Virginia legend brings 'Cavalier' attitude to BU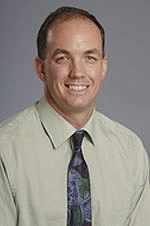 Before he could walk, Bill Smyth could swim. But such an early introduction to the pool, he says, doesn't guarantee success in the sport of swimming. "Hard work and a positive attitude — those are the keys to achievement," according to the new head coach of the BU men's and women's swimming teams.
Smyth, who made his debut as coach at the Fitness and Recreation Center's new pool in a meet against Binghamton University October 23, knows from experience. He was a five-time All-American swimmer for the University of Virginia, and as an assistant coach he helped the Cavalier men's team win the past seven Atlantic Coast Conference (ACC) titles. In addition, the women's team finished second in the ACC championship last year after winning back-to-back conference titles. He attributes his athletes' success, of course, to their strong work ethic.
Swimming, he says, demands sacrifice and rigorous training like no other sport. Talent alone will get you only so far — there were certainly no swimmers with Babe Ruth's lifestyle or girth on Smyth's Virginia teams. Arduous workouts tend to weed out the undisciplined at an early age.
"Because hard work pays off, as a kid I found that swimming was a sport that I could excel at," he says. He began swimming competitively for the Norristown Swimming Club in his Pennsylvania hometown when he was 12 and joined the Germantown Academy Aquatic Club three years later. "The toughest year of swimming I ever had was when I was 15," he says. "In a few months I went from swimming about 5,000 yards a day to 15,000. But it was worth the effort."
Breaking records at Virginia
Smyth's technique improved through high school, and he participated in several national meets. He caught the attention of University of Virginia swimming coach Mark Bernardino, who offered him a scholarship.
After his sophomore year, Smyth made the finals of the 1992 U.S. Olympic trials. A trip to Barcelona was not in the cards, however. He placed fifth in the 400 individual medley. "I was somewhat disappointed that I didn't make the Olympic team, but I wasn't devastated by any means," he says. "I knew where I stood going into the trials. I wasn't a favorite. I was an outside shot."
That disappointment was tempered for Smyth by his winning ways in college competition. Of his six ACC individual titles, four were in the 400 individual medley, an event for which he held the university record from 1994 to 2002. "Even though I was able to break some school and ACC records, contributing to our team's cause was more important," he says. "The accomplishment I'm most proud of was winning the ACC championship my senior year."
After graduating with a degree in psychology, Smyth was an assistant coach for some of the top club teams in the nation, including the Jersey Wahoos and the Phoenix Swim Club, both of which sent swimmers to the 1996 Summer Olympics. It wasn't long before Bernardino offered him a job as an assistant coach, and in 1997 Smyth gladly took him up on the offer.
The following year, the Cavalier men's team began its incredible seven-year streak atop the ACC. And in the middle of that run, Smyth finally had his Olympic moment — as an assistant coach for the Macedonian team at the 2000 games in Sydney, Australia. He was the personal trainer and coach for Virginia distance swimmer Mirjana Bosevska. She didn't win a medal, but did finish in the top 20 in each of her three events. "It was the experience of a lifetime," Smyth says. "If anyone were to ask me if an Olympic berth is worth going through the difficult training regimen, I would say that it absolutely is. If you have the ability and the talent to be in that position, do everything you can to make sure it happens."
Replacing a BU legend
Smyth succeeds Reagh Wetmore (SED'92), who had been the Terrier head coach since the inception of the swimming program 30 years ago. Wetmore leaves a swimming program that under his direction won 13 team titles and 172 individual conference titles and produced two All-Americans and three Olympians.
With tough shoes to fill, Smyth points out that the new pool at the Fitness and Recreation Center is already making it easier to recruit top athletes. He saw the same thing happen when Virginia built a larger aquatics center in 1996. "Recruiting exploded when the new pool opened," he says. "When I was a swimmer there, we had an eight-lane, 25-year-old pool, and we always thought it was nice and cozy. But when high school swimmers came there on recruiting trips, they'd say, 'Well, you've got a great academic institution with lots of history, but I can't see myself swimming in that pool for four years.' When I started coaching there in 1997, however, we were reaping the benefits. We became one of the top teams in the nation."
Bernardino, who just completed his 27th season as Virginia's swimming and diving coach, says that Smyth "is one of the premier distance coaches in America and is widely regarded in collegiate swimming circles as one of the top coaches in Division I swimming. His many contributions as a student-athlete and coach at his alma mater speak for themselves, and Boston University is fortunate to have placed its faith and fortune in such capable hands."
Smyth is especially buoyed by the fact that BU will host the America East swimming and diving championships next February. "That's going to mean even more exposure for the program," he says. "For the swimmers, knowing that they'll get to compete in their own pool in front of their own fans in the championships — that's going to provide a huge energy burst for the entire season. It will be one of the defining moments of their college careers."