Men's basketball preview: young Terriers face early hurdles
Take on top-ranked Duke tonight in season opener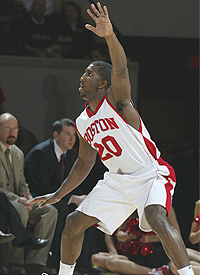 The men's basketball team begins its season with a marquee lineup of games, starting tonight when the Terriers take on top-ranked Duke in North Carolina. The game, part of the preseason National Invitational Tournament, will be televised on ESPN2 at 7:30 p.m.
The Terriers then take on the Michigan Wolverines in their home opener on November 22 at Agganis Arena. They have beaten the Wolverines two straight seasons in Michigan and will be looking for a sweep. Following a game at Rider over Thanksgiving weekend, the Terriers return home to play Atlantic-10 foe Rhode Island on November 29, also at Agganis. The two games at the new venue are the first of four the Terriers will play there this season. The others are against Vermont on January 22 and against Maine on January 29.
Since the nature of college basketball is that even the best players are replaced every four years, success at a given school can be ephemeral. If a program can develop a theme, however, a thread running through the years to connect players past with players current and players future, continued success can be achieved. Dennis Wolff has found such a skein: defense.
Wolff, now in his 12th season as head coach of men's basketball, has built teams that embody his intense, aggressive approach, with a hardscrabble man-to-man defense and an understanding that playing time frequently is dependent on defensive effort and not on offensive production. The results have been indisputable. In Wolff's 325 games at BU, the Terriers have allowed fewer than 55 points in nearly a quarter of them, amassing a remarkable 72-4 record when doing so. In the 2004-05 season, the defense held opponents to just 37.1 percent shooting from the field — the lowest in the nation.
"From the first day I was hired as the coach here, I knew that if we were going to be successful, we had to get a team commitment to playing good defense," says Wolff, who is BU's all-time leader in wins, with 192. "Even in our bad years, we have defended well. If you can limit the opponents' chances to score, you greatly improve your own chances of being successful."
The team has lost last year's top three scorers, representing 65 percent of points scored, so the focus on defense will certainly be relevant this season. Two of those scorers rank eighth and ninth, respectively, in all-time career scoring at BU: Chaz Carr (MET'05), with 1,406 points, and Rashad Bell (CAS'05), with 1,367 points. The 2005 graduates helped the Terriers win 85 games and advance to four straight postseason appearances. Continuing that run of success will be a challenge this year, especially for a team with nine freshmen and sophomores.
The cupboard is by no means bare, however, as seniors Shaun Wynn (COM'06) and Kevin Gardner (CAS'06), with a combined 167 games' experience, return, along with developing star Tony Gaffney (CAS'09) and solid players Matt Wolff (CAS'08), Bryan Geffen (CAS'08), and Omari Peterkin (CAS'07).
"By the time we get into the heart of the league schedule, several of our players will have game experience, and we will be able to determine who should be filling what role," says Wolff. "By that time we will absolutely be able to compete and be near the top of the league standings."
The Terriers' energizing force is cocaptain Wynn. A third-year starter at the two-guard position, he is the steadying presence on the team, rarely turning the ball over and always creating opportunities for teammates. His career assist-to-turnover ratio is 1.86, the fifth best in school history, and he is also a great pickpocket, recording two of BU's top-10 single-season steal totals. A career 5.6 points-per-game scorer, he is not expected to shoulder the scoring load, but to play the solid defense that provides control and leadership on the floor and helped earn him 2004 America East Defensive Player of the Year honors.
Cocaptain Gardner, a sturdy presence in the post, was the Terriers' second-leading rebounder last year and has developed an accurate touch down low. He started all 29 games last season and averaged a career-high 7.3 points a game, shooting 52 percent from the field.
"We have many strengths, such as our ability to defend and our improved depth," Wolff says. "Our scoring will come from different places, and every game will be a team effort. I like the blend of players we have assembled, and I think we have a great chance to be in contention right there in the end."
Click here to purchase tickets for Terrier home games or for more information, or visit the ticket office at 925 Commonwealth Ave., Monday to Friday from 10 a.m. to 6 p.m., or call 617-353-GOBU (4628).