Gerald Lewis to lead Board of Directors at Shore Educational Collaborative
Gerald Lewis will lead the Board of Directors at the Shore Educational Collaborative.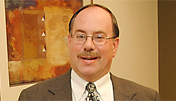 Gerald Lewis, associate comptroller in BU's Office of Financial Affairs and the vice-chairman of the University team that manages the Chelsea school district, was recently named chairman of the Shore Educational Collaborative Board of Directors. The collaborative serves ten public school districts in Greater Boston and on the North Shore.
Boston University has a longstanding partnership with the Chelsea school district, established in 1989 when Chelsea's school committee gave BU a contract to manage the schools, and Lewis has been a key figure in the partnership since its inception. In addition to his work with the BU/Chelsea management team, he serves as treasurer of the A Different September Foundation, the non-profit fundraising arm of the Boston University/Chelsea Partnership that has raised more than $12 million on behalf of the Chelsea schools.
He is also the treasurer of the Shore Educational Collaborative's fundraising foundation. The collaborative was founded in 1975 and serves students and adults with disabilities, providing professional development seminars, consultation, and financial billing services. Each year, the Collaborative serves more than 150 students, 200 adults and 3,000 educators from the Greater Boston and North Shore areas.