Gala honors BU hockey legend Jack Parker, celebrates scholarship
Includes a video tribute by BU Productions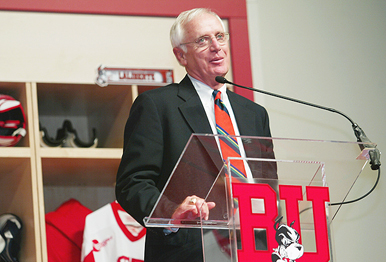 Watch a 10-minute video tribute to Jack Parker. Viewing this video requires RealPlayer®.
"You've been here 40 years? Talk about a rut," cracked comedian Steve Sweeney to Jack Parker. The BU men's hockey coach was praised by many at an October 6 gala in his honor at Agganis Arena. He was also roasted. Thoroughly.
The event, which began with a silent auction, also celebrated the dedication of the Agganis Arena ice rink in his name, and the launching of the Terrier Pride Scholarship, presented to hockey forward Peter MacArthur (SED'08). The gala helped raise $1.1 million for the scholarship, which was established to provide vital support to Terrier student athletes.
Parker (SMG'68, Hon.'97), whose 715 victories ranks second among active college coaches, was the butt of more than a few jokes. During a tribute video, Tufts University President Lawrence Backow recalled commenting on his fiery competitiveness during a day of sailing. "Back off, coach, we're just going for a sail," he had said to Parker. "We don't have to beat everybody in the ocean."
All kinds of kidding was fair game as former Terriers, as well as broadcaster Sean McDonough, the emcee, and comedian Dennis Leary joked about Parker's tantrums behind the bench, his superstitions (including his lucky shoes), and his habit of talking at lightning speed. There was laughter aplenty at the gala, but also heartfelt appreciation for "not only a great coach, but an even better human being," said McDonough.
"Jack is extremely deserving of this honor, and Boston University Athletics is proud to host this event in conjunction with the inaugural Terrier Pride Scholarship," said BU Vice President and Director of Athletics Mike Lynch. "We are pleased to have raised money for our student athletes, while at the same time paying tribute to the coach's innumerous contributions to both the BU hockey program and the University as a whole."
For more information on the Terrier Pride Scholarship program, call 617-358–3008.