BU Women's Council hosts a tribute to Jasmine Chobanian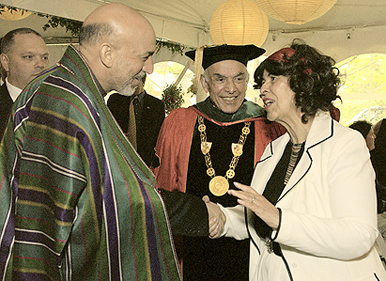 During a night of celebration of the arts in honor of Jasmine Chobanian, former Boston University first lady, her husband, President Emeritus Aram Chobanian, recruited Sharon Daniels, director of the Opera Institute, to sing a song he wrote for his wife. Click here to watch a video of the performance.
Held in the Metcalf Ballroom, the November 1 tribute to the artist and gracious hostess was sponsored by the Boston University Women's Council.
The elegant event had a sophisticated, artistic theme to honor Jasmine Chobanian's commitment to the arts at BU. Boston Ballet dancers Melanie Atkins, Pavel Gurevich, Roman Rykine, and Larissa Ponomarkenko performed selections from The Nutcracker. Provost David Campbell sang four German Lieder songs, one from Franz Schubert's Winterreise and three Robert Schumann songs from Dichterliebe. He sang in German accompanied by his wife, pianist Claude Hobson.
Speakers, who included President Robert Brown, Joseph Mercurio, executive vice president, Alan Leventhal, chairman of the Board of Trustees, and the Chobanians' daughter, Lisa Chobanian, praised Jasmine for her warmth, passion for conversation on a breadth of intellectual topics, and love of the arts. The master of ceremonies was Ron Della Chiesa.
Mercurio recalled that after becoming interim president, Aram Chobanian told him that at formal dinners he often seats his wife next to a person whose character he would like to probe.
"She is so friendly, people just open up to her and reveal themselves," Chobanian said to Mercurio, who suddenly recalled the many times he had been seated next to the evening's guest of honor.
Lisa Chobanian remembered a happy childhood filled with laughing, singing, and storytelling, despite sometimes having to sit for hours for a portrait. She described her mother's optimism as unusual: "She sees the glass as all the way full."
At the conclusion of the evening, Jasmine Chobanian briefly addressed the crowd wearing her trademark red head scarf. "My relationship to BU has been the highlight of my life," she said.
The Women's Council also announced the establishment of the Jasmine Chobanian Scholarship Fund. The event was organized by Vita Paladino, council vice president, and Marianne Brown, council president.
Front page photo of Jasmine Chobanian at a San Francisco alumni dinner in January, 2005, by Fred Sway.