BU student is one of select few to visit North Korea
Student Kevin Bryan had the rare opportunity to visit North Korea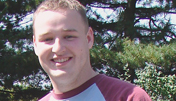 Flying to North Korea recently, Kevin Bryan (CAS'06, GRS'06) was able to watch a Red Sox game. But when he landed, he was thrust into a different world.
"It's like a glimpse back in time, to the Soviet Union in 1975," he says. "There is very little knowledge of the outside world — our English-speaking guides had no idea what Star Wars was or who Michael Jordan was."
The international relations and economics major was one of very few people nationwide issued a visa to tour North Korea for three days, the first time since 2002 that the Korean government has allowed Americans to enter. Of the three American groups, his was the first to depart. After learning of the opportunity, Bryan, the only student in his group, had only one day to decide to go and to pay in full.
The Undergraduate Research Opportunities Program and the Office of the Dean of Students helped fund the trip. He traveled with 13 other Americans — four who live in the United States and nine who currently reside in China. They were people from all walks of life, from small children to schoolteachers to "Internet millionaires." During his visit, Bryan explored Korean culture and practices and attended the important festival of Arirang.
A large-scale sports and arts festival, Arirang celebrates the birthday of the nation's founder, the late Kim Il Sung, as well as commemorates the founding of the country's Workers Party. This year government officials invited foreign visitors to attend the mass games, which included 100,000 performers entertaining a stadium full of festival-goers with expertly synchronized gymnastic and artistic performances.
"It was quite a spectacle … [There were] elaborate costumes, crazy sets, vibrant colors — the works," Bryan says. "It's quite good, and how North Korea isn't winning every gymnastics medal every year, I don't know."
Bryan and his group could go only to preapproved places and otherwise had to stay close to the hotel. "You couldn't even take a jog," says the senior from Eugene, Ore., who also has traveled to China through a BU program. In spite of the restrictions, Bryan learned a lesson about humanity. "No matter how bad the government is, people everywhere are more or less the same," he says. "They all have dreams and desires and goals."