BU participates Thursday in the Great American Smokeout
Are you ready to quit? There's no time like the Great American Smokeout.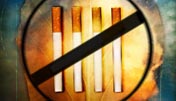 According to the American Cancer Society, cigarettes kill more Americans than alcohol, car accidents, suicide, AIDS, homicide, and illegal drugs combined. The grave consequences of smoking should be enough to steer anyone away from cigarettes; however, the Centers for Disease Control and Prevention estimated last year that approximately 44.5 million Americans smoke, many of them young people.
To help smokers quit and educate them on the dangers of smoking, the American Cancer Society is sponsoring its 29th annual Great American Smokeout tomorrow, Thursday, November 17.
BU will participate in the smoke-out by hosting an interactive game called Smoking Jeopardy, handing out information about local smoking cessation programs, and providing quit kits at the GSU between 11 a.m. and 2 p.m. Quit kits can contain a variety of things, among them a tea bag, which is a natural aid to stopping smoking, or a straw to chew on when cravings arise.
"It's important to continue to talk with students about the dangers of smoking, because
there are many students who smoke now and figure they can quit later and their body will recover," says Beth Grampetro, health and wellness educator for the Office of Residence Life. "Unfortunately, that doesn't work for everyone."
In addition, according to Grampetro, who is organizing Thursday's smoke-out activities, many students don't know they are addicted to cigarettes. "A lot of students say they only smoke when they drink, when they have a test, and so forth," she says, "and they really don't identify themselves as having a problem with smoking, when in fact they do."