SEA Change
What We Do | SEA Change
SEA Change is an initiative from the American Association for the Advancement of Science (AAAS) that seeks to recognize institutions for their work in support of diversity, equity, and inclusion in the STEMM (science, technology, engineering, mathematics and medicine) fields.
Boston University was involved in the development of this program from its earliest days and we received one of the program's inaugural AAAS SEA Change Bronze Awards in 2019. Below is the application that BU submitted for the program, which is made available here to the BU community.
This document and the accompanying Action Plan describe the data around diversity, equity, and inclusion in STEM across campus, and the plan we put forward to better our efforts.
---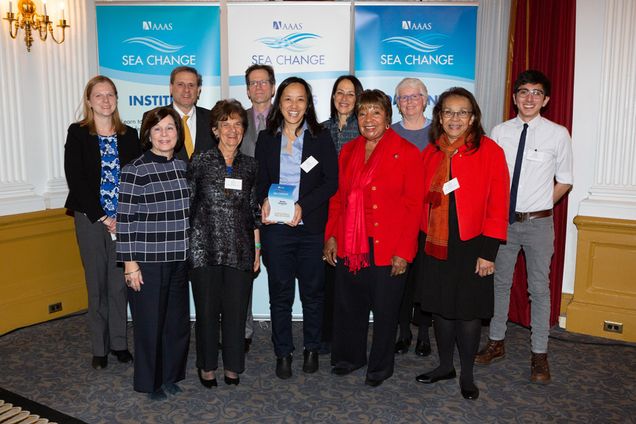 BU faculty and staff receiving one of the three inaugural AAAS SEA Change Bronze Awards at a ceremony held in Washington, D.C., February 13, 2019. Holding the award is Joyce Wong, an ENG professor and ARROWS director, with BU colleagues Gloria Waters, Kenneth Lutchen, Jean Morrison, Daniel Kleinman, Rebecca Ginzburg, and Cristian Morales; American Association for the Advancement of Science officials Paula Rayman, Margaret Hamburg, and Shirley Malcom; and Rep. Eddie Bernice Johnson (D-Tex.). Photo by Michael Feder